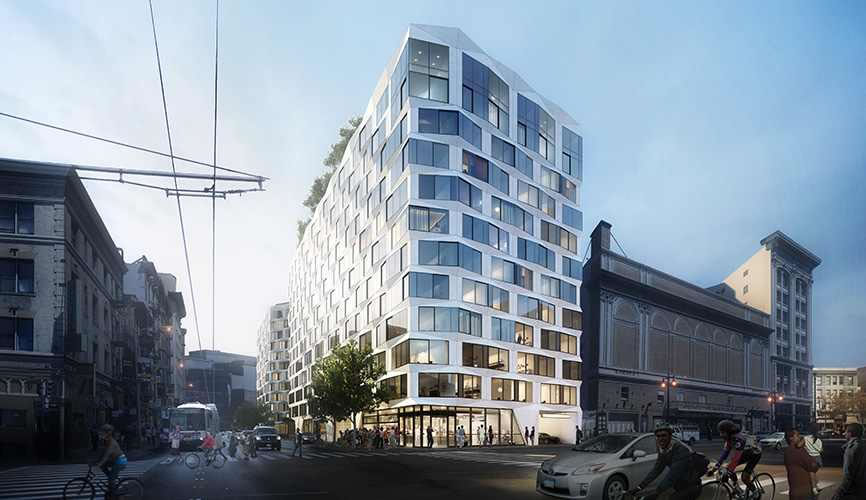 Having been appealed on both historic and contemporary grounds, the Planning Commission hearing to determine if the modern 12-story development designed to rise at 950 Market Street – covering half the triangular Mid-Market block bound by Market, Turk and Taylor while leaving The Warfield and Crazy Horse Theater buildings in place – can move forward as proposed has been tentatively scheduled for October 13.
Once again, while the BIG plans for a 200-foot-tall building with a 75,000-square-foot arts center, 300 units of housing, and a 250-room hotel to rise on the site have been ditched in favor of the shorter development for which a rezoning won't be required, the proposed 120-foot-tall building designed by Handel Architects will still yield 242 condos, a 232-room hotel and 16,600 square feet of retail space spread across the development's ground floor.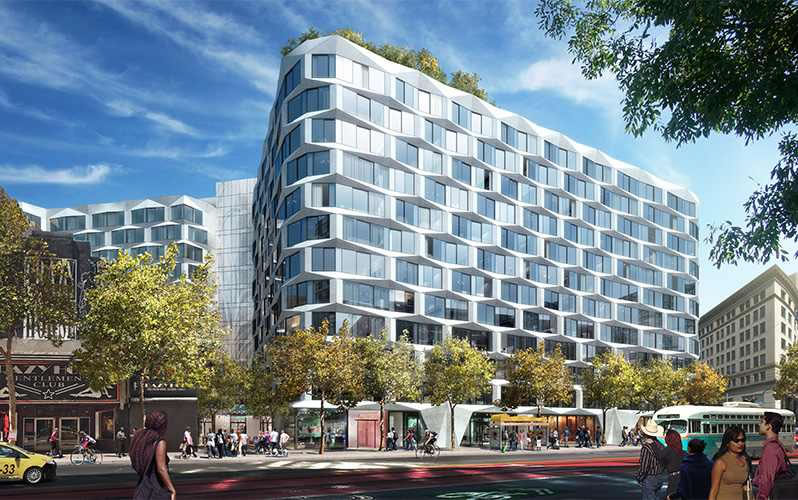 But the development would raze the existing buildings across the 950-974 Market Street site, buildings which were recently identified as contextual resources for LGBTQ History in San Francisco. And as such, in addition to a generic appeal of the project by Sue Hestor's 'San Franciscans for Reasonable Growth' movement, the co-author of the LGBTQ Historic Context Report had requested the proposed development be required to complete a detailed Environmental Impact Report (EIR).
If the redesigned 950 Market Street project survives its appeal, is approved by Planning and manages to break ground, it will then take an estimated 27 months to build.