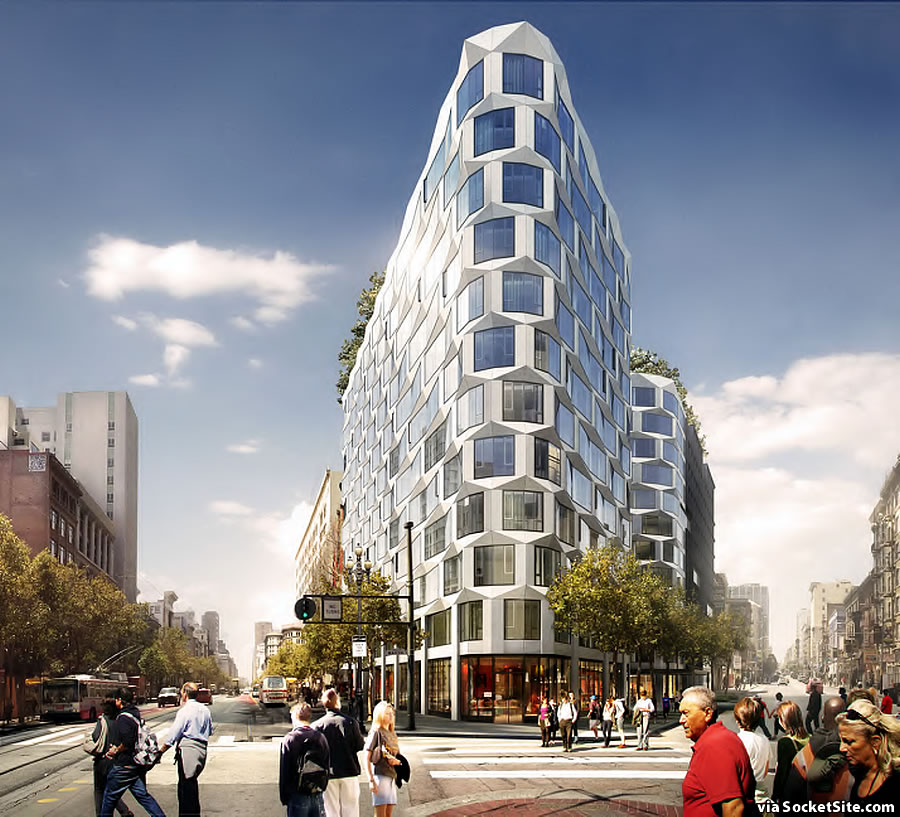 While the prow and Market Street facade of the proposed 12-story development to rise on half the Mid-Market block bound by Market, Turk and Taylor, have been slightly refined (primarily at the base), the 950 Market Street project's Turk and Taylor Street look has been completely redesigned by Handel Architects as newly rendered below:
The project as proposed would wrap around The Warfield and Crazy Horse theaters and yield 242 condos, a 232-room hotel, 82 parking spaces and 16,100 square feet of retail space spread across the development's ground floor.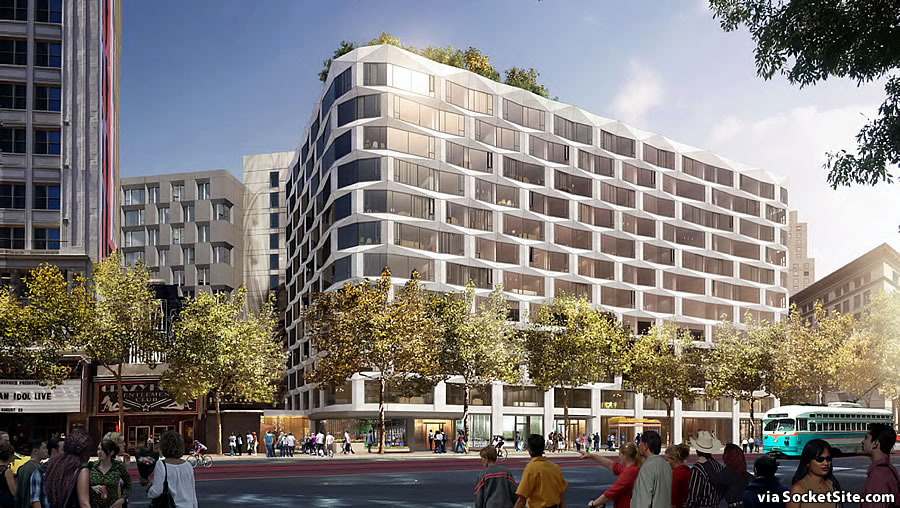 But the development would raze the existing buildings across the 950-974 Market Street site, buildings which were recently identified as contextual resources for LGBTQ History in San Francisco, a move which is being challenged the co-author of the LGBTQ Historic Context Report.  The development is being challenged by Sue Hestor's 'San Franciscans for Reasonable Growth' movement as well.
In order to pave the way for the project and offer all 242 condos at market rates, the development team is now proposing to either deed the property at 180 Jones Street to the San Francisco Mayor's Office of Housing and Community Development and pay $12.8 million into a 180 Jones Street Affordable Housing Fund or to build up to 70 affordable studio or efficiency apartments on the 180 Jones Street site and establish a $2 million 180 Jones Street Affordable Housing Fund as well.
If the redesigned 950 Market Street project survives its appeal next week and is approved by San Francisco's Planning Commission, it will then take an estimated 27 months to build once it breaks ground.