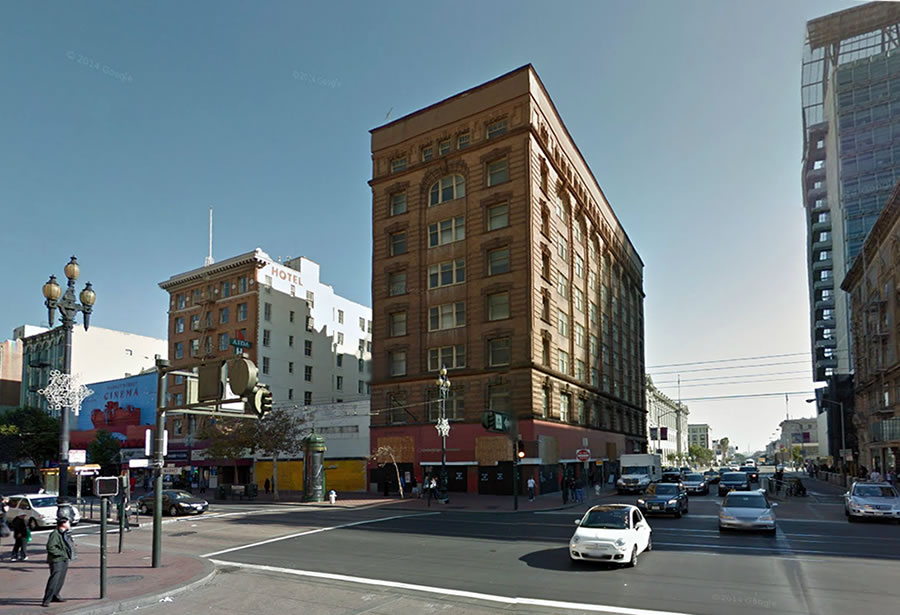 Approved for redevelopment as a 94-room hostel/hotel in 2010, the historic Joseph D. Grant Building at 1095 Market Street was subsequently sold to Synapse Capital. And in 2014, plans to partner with London-based Yotel to build 203 guest "cabins" (a.k.a. micro hotel rooms) within the Mid-Market building at the corner of Seventh were announced.
And while San Francisco's Zoning Administrator determined that the new plans for the building were in "general conformity" with what had been approved in 2010, and building permits for the project were subsequently approved and issued last year, there could be a problem next week.
As noted in a pending appeal of the project filed by Sue Hestor for UNITE/HERE Local 2, San Francisco's Planning Code requires a bus loading space for hotels with over 200 rooms, a space which the 1095 Market Street project does not provide.
Countering the appeal, the primary basis of which is that the Zoning Administrator's determination that a 94-room hostel (with 484 beds) and a 203 room micro-hotel (with 239 beds) are generally the same was made in error, the attorney for 1095 Market Street argues that the bus loading zone requirement only applies "in the case of a "major addition" to an existing building," and that the conversion of 1095 Market Street from office to hotel use doesn't count.
And while appearing to agree that the Planning Code would, in fact, require a loading zone for the project if the conversion increased the off-street loading requirement for the existing building based on use, the attorney then argues that since "the existing office use requires a total of one off-street loading space," and the new use only requires a total of one space as well, there is no increase in the required number of spaces. But as the attorney also notes: "No such space exists."
San Francisco's Board of Appeals is slated to rule next week.