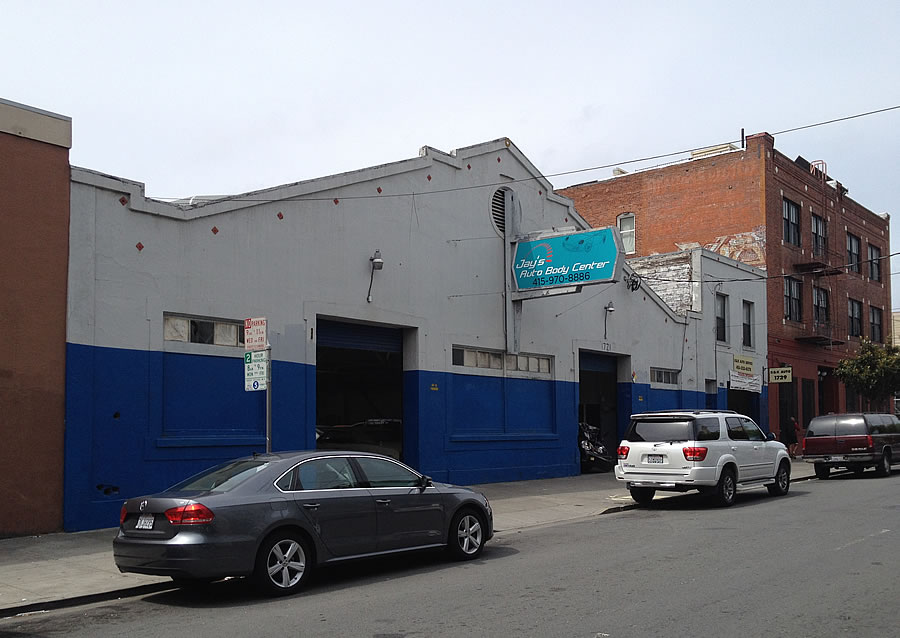 Speaking of underdeveloped Mission District parcels in play, the Mission District garage at 1721 15th Street is now in contract to be sold. As we first reported about the building, exploratory plans and imminent sale last year:
Considered a potential Historic Resource for the 'Inner Mission Reconstruction Historic District,' the redevelopment of the garage known as Jay's Auto Body Center at 1721 15th Street, between Little Star Pizza and The Monastery, could be a little tricky.

But the owners of the building have met with San Francisco's Planning Department to explore the possibility of 'converting' the garage into a 27-unit condo project. And the building is about to hit the market listed as a 'development opportunity'…
The garage, which was built in 1916 and for which the owners were seeking $7.25 million, sits on a parcel which is now zoned for development up to 55 feet in height. And the latest plans for the site call for a new five-story building with commercial space and parking on the first floor and four floors of housing, with up to 48 units, above.