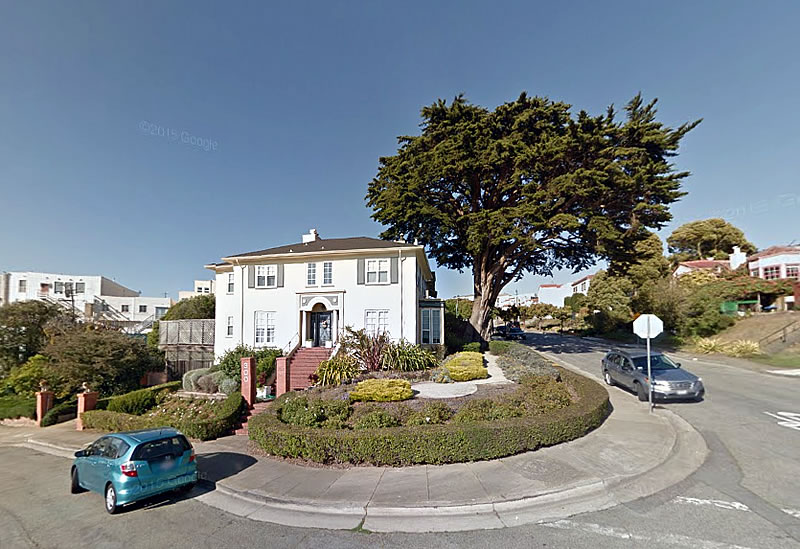 The lone Monterey Cypress at 300 Moncada Way is a spectacular tree whose roots have caused $21,000 worth of damage to sewer pipes, the sidewalk and adjacent driveway/garage over the past fourteen years. And its roots now extend over 30 feet under the foundation of the adjacent home on Paloma Avenue.
With the long-time homeowners (the house last traded hands in 1977) upon whose property the Cypress grows having applied for a permit to remove the tree and been denied, a public hearing was held in July.
At the hearing, both the property owners and neighbor (who has lived with the tree for over 30 years and incurred the brunt of its damage) testified in favor of the tree's removal, citing concerns of ongoing property damage and increasing safety concerns. No protests from other neighbors were proffered.
According to Urban Forestry staff, however, the tree is healthy and sustainable with a good canopy and 'fair' structure, which happens to be leaning, below. And as such, the City deemed the tree significant and denied the homeowners' request to remove the tree.
The Department of Public Works did, however, direct Urban Forestry staff to provide guidance to the property owner for hiring a qualified tree contractor to make maintenance recommendations and reduce potential limb failures (at the homeowner's expense).
An appeal of the Department of Public Work's decision will be heard next week.
For the record, the neighbor supporting the removal isn't an arbor hater, he actually championed the planting of 21 new trees along two blocks of Paloma where no street trees had previously grown. The homeowners have committed to planting a replacement Krauter Vesuvius (Purple Plum) where the Cypress currently grows. And elsewhere in the city, Cypress trees are systematically being removed by the City as a non-native and invasive species.