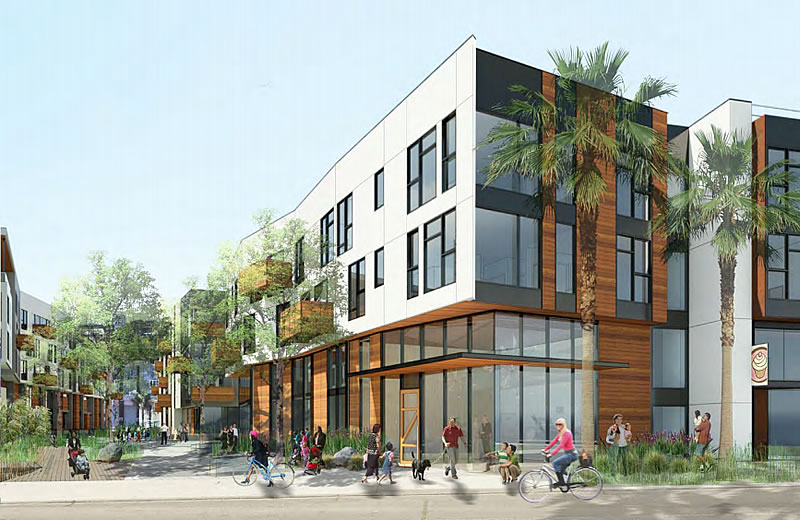 In an attempt to win over the opposition from a number of Potrero Hill neighbors and neighborhood groups, including the Potrero Boosters, Save the Hill and the adjacent Live Oak School, Related California has reduced the proposed number of apartments to rise at 1601 Mariposa from 320 to 299; increased the affordable housing component from 14 to 20 percent; and increased the setback between the development and Live Oak from 10 to 36 feet, creating a new east-west public passageway for pedestrians through the block.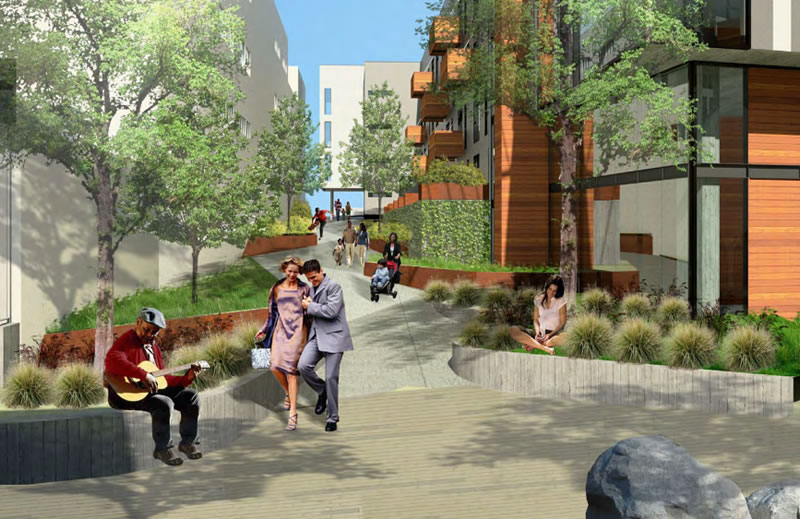 In addition, Related has agreed to fund $2 million towards revitalizing Jackson Playground across the street; provide financial support to add a traffic signal at the intersection of Mariposa and Pennsylvania; and has added a bit of dedicated "PDR" space along Carolina to provide for neighborhood "makers" and reduce the project's retail component, reducing the number of car trips the project has been projected to yield.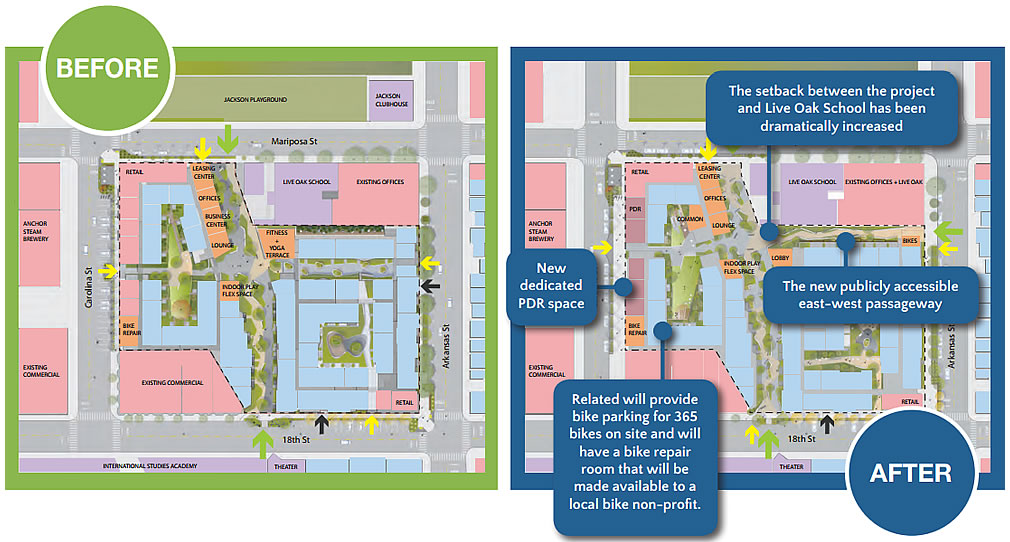 Originally slated for approval by San Francisco's Planning Commission last month, the public hearing for the development was continued until this week in order to give the development team and opposition an opportunity to resolve their outstanding issues and move forward with a united front.
From the opponents in a letter to the Commissioners last week:
"We are writing to express our concerns with the development at 1601 Mariposa. It had been our hope that a continuance to November 12 would provide the opportunity to work with Related California, the project sponsor, towards a project with both concrete community benefits and compatibility with neighborhood character. Unfortunately, discussions with Related have yet to resolve the issues that made the continuance necessary.

We appreciate Related's efforts to advocate for better transit, parks and recreation space in the neighborhood, and understand that they have been meeting with key officials at SFMTA and SFRPD, as well as with our Supervisor. However we do not consider this a substitute for ongoing and active engagement with Live Oak School, the 18th Street and Arkansas HOA, neighborhood advocacy groups, and the community as a whole.

Among the concerns that have been raised in community meetings, but not yet addressed, are a reduction in density and massing, a reduction in height on 18th Street, and the opening up of the EastWest passageway, currently only 20 feet wide in sections, by removing the overhang and raised patios to bring it closer to a 40 foot width. To ensure consistency with neighborhood character, a project of this size demands a design that would incorporate more discreet buildings, a fine-grained texture, stronger visual breaks and a greater variety of facades. However we have seen no significant design revisions since the LPA was submitted in July.

We have asked that landscaping be used to maximize the public open space to encourage gathering and activity, with greener park-like space and less pavement. Related has offered to make the "Flex Room" off the ground level of the midblock passageway available to the public. We welcome a facility such as this, but need a better understanding of how access would be provided. To further draw activity into the passageways, we have requested that Related include a more active ground level, rather than relying on purely residential stoops. We feel this could be accomplished in a number of ways, including the addition of PDR businesses or flex units (i.e. residential units that may have an ancillary commercial use) opposite the recently proposed "townhouses" along the North-South midblock passageway. The addition of commercial space in exchange for several residential units could simultaneously help mitigate traffic impacts by spreading them out throughout the day, and ensure that the ground level remains active 24/7.

Most importantly, the result would be a project that is more in keeping with the objectives of UMU (Urban Mixed Use) zoning and provide the appropriate mix of different types of activities and neighborhood amenities.

We appreciate the inclusion of 20% affordable housing, however, with only 40% 2+ bedroom units in the Preferred Project, we expected a higher percentage of larger units to ensure a more family-friendly project.

To address the transit deficits on Potrero Hill, the Potrero Boosters Neighborhood Association has asked developers to contribute to funding a private shuttle service for residents throughout the neighborhood. Related had agreed to this previously. We would be willing to forgo their participation with some assurance from SFMTA that increased service is forthcoming.

Construction noise with school in session and the remediation of hazardous materials remain issues of deep concern. In 2014, the Department of Toxic Substance Control indicated to Live Oak School that there would be a public meeting so neighbors, teachers and parents could weigh in on the site mitigation plan and timing of remediation work. That meeting has not yet occurred, and has not been scheduled. We would also expect that there would be a formal agreement in place regarding the scheduling of construction prior to project approvals.

Related has generously offered $2 million dollars towards Jackson Park improvements, and Rec and Park recently prioritized improvement of the Park. However, until the terms and conditions of the agreement with Related and a fiscal sponsor are clarified, and an enforceable contract is in place, we cannot count on the promise of $2 million to be a deliverable community benefit. Furthermore, while this is certainly a tremendous opportunity for the neighborhood, the community has not yet had the opportunity to provide input on their priorities outside of a recent survey done by the Friends of Jackson Park. That survey identified strong interest in additional open space and a community recreation center located outside of the park. We hope that discussions with the Rec and Park Department will be more fully extended to key stakeholders such as Friends of Jackson Park and Live Oak School to establish appropriate priorities. Finally we will need to have a better understanding of what contributions might be available from other entities, both private and public, before the 1601 Mariposa development is approved.

We believe that these remaining issues, while significant, are not unresolvable. Our hope is that Related will more fully engage with the community so that we can move forward with a better project that will truly benefit the neighborhood."
San Francisco's Planning Department is recommending that the 1601 Mariposa Street project, as designed and redesigned by David Baker + Partners, be approved by the Commission this week, deeming the project consistent with the City's General Plan, architecturally compatible with its surrounding character, and appropriate for the neighborhood.