The two-unit, two-story over garage building at 1042-1044 Jackson Street was purchased for $1.16 million in May of 2014 with a protected tenant in one of the units.
Soon thereafter, plans to add two stories and a third unit to the building were drafted and proposed.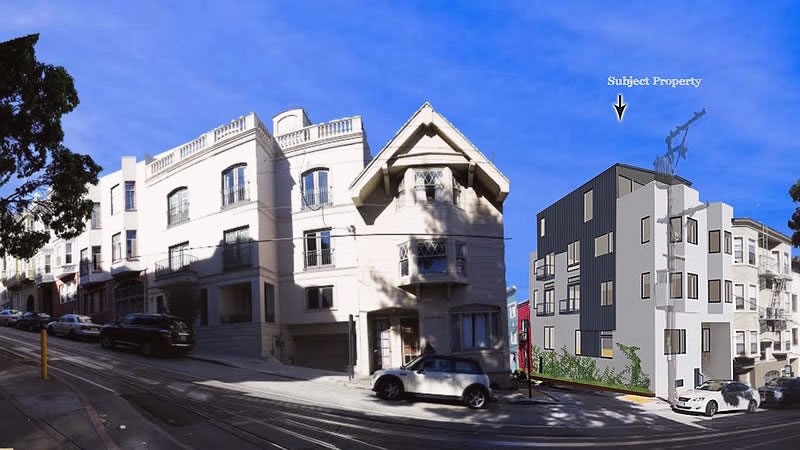 While the parcel is generally zoned for development up to 65-feet in height, and the building as designed would only be 50, a building height exceeding 40 feet in height within an RH-3 (Residential-House, Three-Family) and 65-A Height and Bulk District requires special approval from Planning.
While Planning Department staff had initially recommended the additional height be allowed, following a public hearing last month at which a number of Nob Hill neighbors objected to the project on the grounds that the proposed fourth story would inhibit "light and air" from reaching their residences, the Planning Commission voted to oppose the extra height, noting that the fourth story "was neither necessary nor desirable for the neighborhood."
This afternoon the Commission is slated to officially deny the extra height for the project, a disapproval which the Planning Department now recommends, noting the Commission's findings and that the massing and bulk of the proposed addition "would not be consistent with existing neighborhood character, and could block light and air to surrounding properties on Auburn Street and Jackson Street."
A one story addition would keep the project under the 40-foot threshold.