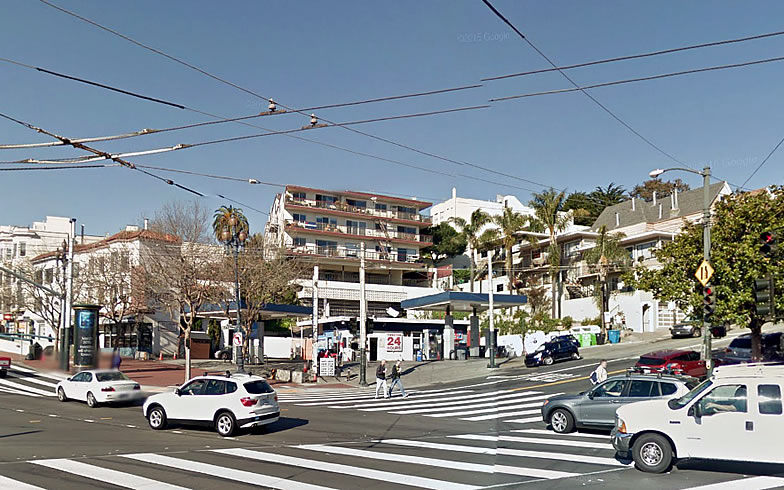 Approved for the development of a six-story building back in 2013, with 24 residential units over ground floor retail and a 14-car garage to rise, the prominent gas station site on the northwest corner of Castro and Market has been locked in an epic legal battle ever since.
And after two years of litigation and a deadlocked jury, Superior Court judge Suzanne Bolanos has just ruled in favor of the majority owner-operators of the site and against developer Joe Tierney who paid $340,000 in exchange for a 10 percent interest in the property back in 2004 with an agreement to purchase the remainder of the site for $3,094,000.
The purchase agreement, however, was dependent upon the site being approved for the development of at least 22 residential units and included a one-year deadline to secure entitlements for the project.
Tierney continued to pursue approvals for the development well past the one-year deadline and was eventually successful, at which point the gas station site suddenly appeared on Craigslist listed for an eye-popping $12 million, much to the surprise and chagrin of Mr. Tierney who had hoped to execute the original purchase agreement and sued to have the agreement enforced.
Yesterday, Judge Bolanos issued her ruling, finding that "the term [Entitlement Deadline] was intended as a deadline by when Mr. Tierney was to have obtained the Entitlements," and that by missing that deadline, "Mr. Tierney became, and remains, a 10% owner" of the site, but without an enforceable purchase agreement for the other 90%.
The majority owners were represented by Mark Poe of Gaw|Poe and Lucia MacDonald of Mode Law.
Expect the site, which was appraised for $4.2 million, or roughly $175,000 per unit, in 2013 as a shovel-ready site to soon hit the market with the plans as approved: