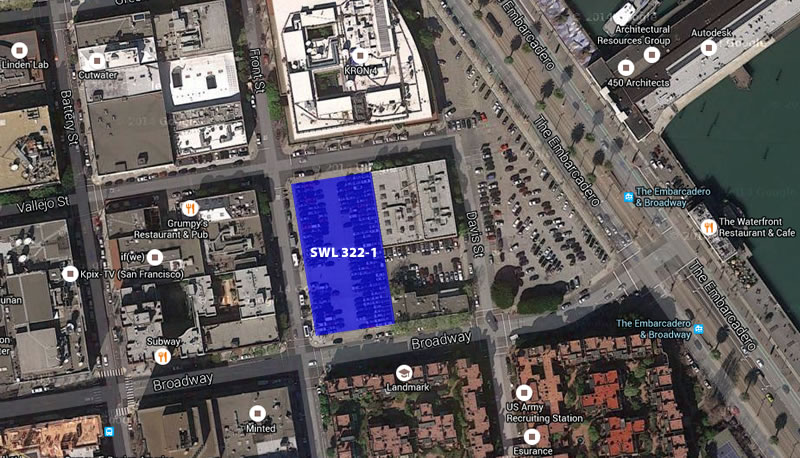 Identified by the Port of San Francisco as "the greatest affordable housing development opportunity among the Port's seawall lots in the northeastern waterfront," the Mayor's Office of Housing has been working on plans for 115 units of affordable housing to rise up to 65-feet in height on Seawall Lot 322-1, the underdeveloped half-block parcel on the east side of Front Street between Broadway and Vallejo which is currently a parking lot for 225 cars.
Intended to be developed as housing for residents making no more than 65 percent of the area median income ($44,150 per year for one person, $50,500 for a family of two), The Northeast Waterfront Advisory Group, which represents the interests of the Telegraph Hill Dwellers, Barbary Coast Neighborhood Association, Friends of Golden Gateway, and SoTel Neighbors among others, is pushing the city to include more housing for middle income residents making between 80 percent and 120 percent of the area median (up to $81,550 per year for one person, $93,250 for a family of two).
The coalition's push for higher income residents is positioned as a desire to be inclusionary and develop "a neighborhood that's for everyone," which likely rings hollow, but the report card for San Francisco's housing production over the past eight years demonstrates a particularly dismal performance with respect to housing for households earning between 80 and 120 percent of the area median income which supports the coalition's cause.
On July 21 at 6PM, the Mayor's Office of Housing and the Port will present their preliminary massing studies and analysis for the site, after which there will be an "interactive," and likely quite lively, discussion with community members to solicit input as the City prepares to issue their formal Request for Proposals (RFP) from affordable housing developers to develop the Seawall Lot 322-1 site.