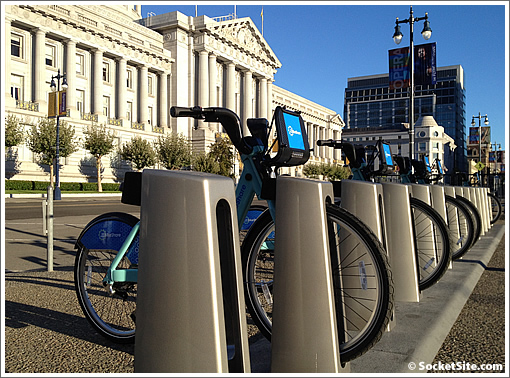 A proposal to increase the number of bikes in the Bay Area Bike Share program from 700 to 7,000, and expand the network to include Oakland, Berkeley and Emeryville, will be considered by the Metropolitan Transportation Commission's Administration Committee next week.
Motivate, the current operator of Bay Area Bike Share pilot program, is proposing to boost the number of bikes in San Francisco from 328 to 4,500, from 129 to 1,000 in San Jose, and would add stations and bikes in Oakland (850), Berkeley (400) and Emeryville (100).
The four-phase expansion would be funded by Motivate and completed by late 2017 as envisioned.  The proposal is expected to go before the full MTC for approval later this spring.