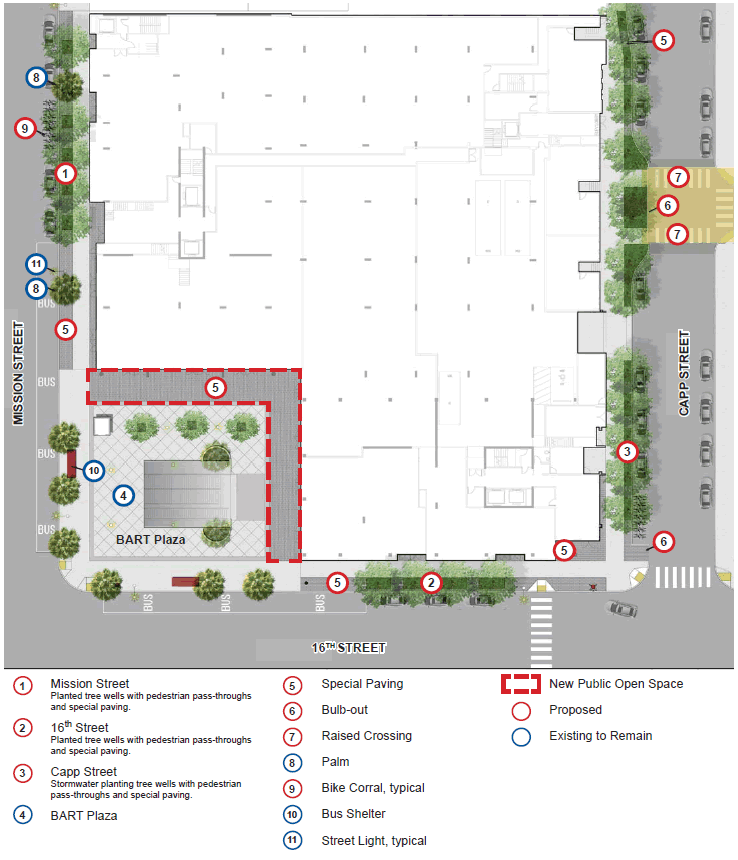 The controversial plans for the proposed 331-unit development to rise up to ten stories on the northeast corner of Mission and 16th Streets include a host of streetscape improvements, beyond those to the BART Plaza, ranging from wider sidewalks to bike corrals.
As diagrammed above, the proposed streetscape improvements include bulb-outs at the northwest corner of 16th and Capp and the western side of the Capp and Adair Street intersection, to calm traffic and improve pedestrian safety; a widening and landscaping of the existing 9-foot Capp Street sidewalk to 12 feet on the western side of Capp Street between 16th and 15th streets; landscaping; and the addition of a raised crosswalk across Capp Street at Adair.
Additional improvements along Mission, 16th, and Capp streets would include planted tree wells, special paving, and bicycle parking corrals, providing 30 Class II bicycle spaces. The [developer] would apply to the San Francisco Municipal Transportation Agency (SFMTA) to have the two bicycle corrals installed within the public right-of-way on the street…and would fund their installation. There would be one bicycle parking corral for 16 bicycles on Mission Street, and one bicycle parking corral for 14 bicycles on Capp Street.

Overall, these improvements would require the removal of one curbside parking space on Mission Street, and three to four curbside parking spaces on Capp Street, resulting in the removal of up to five parking spaces.
And in terms of the project's proposed "open space" plan, the storefronts along the northern and eastern sides of the BART plaza would be set back 15 feet from the property line, creating a 2,625 square foot "publicly accessible open space," while nearly 29,000 square feet of the development's roof and courtyard space would be landscaped for the use of the building's residents, with lounge areas, play areas and even a dog run atop the building fronting 16th Street.