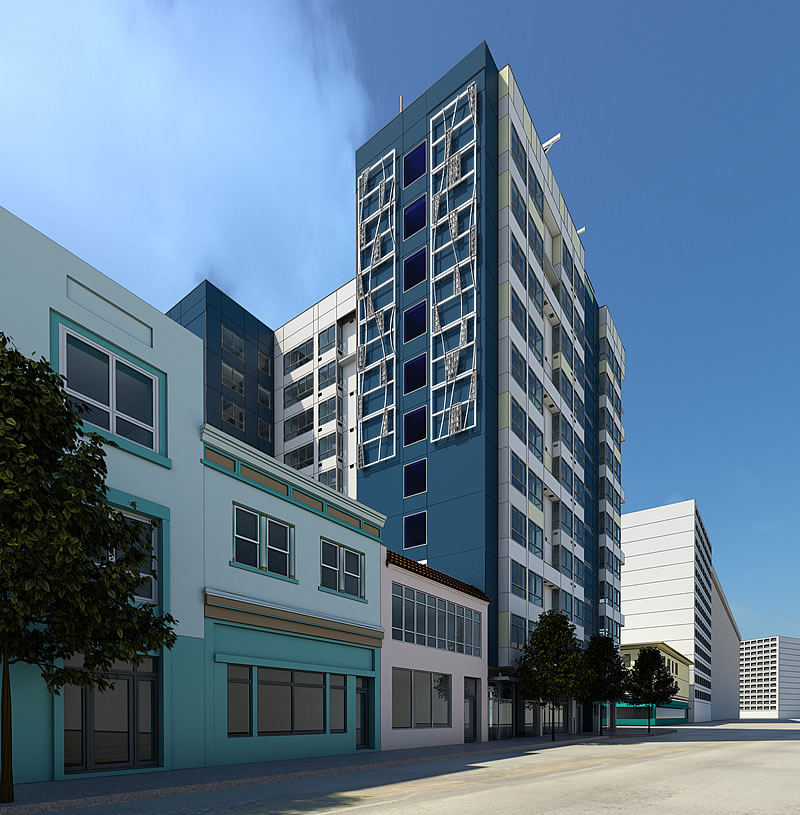 With the construction of Panoramic Interest's 11-story building rising on the southwest corner of Mission and 9th Streets nearing completion, a building which includes a total of 160 market-rate units, of which 120 are "micro-units" as small as 274 square feet in size, it's time to unveil the public art which will adorn the south façade of  the building as rendered above.
From Ken Kalman, the San Francisco-based sculptor who holds an MFA from the San Francisco Art Institute and has been commissioned for the installation:
The concept and vision for the artwork at 1321 Mission involves the constancy of wind and ever-changing light. The work will be attached to the exterior of the building on the south side rising from the 6th story up to the 11th. The entire piece will be made of aluminum, which will shine, spin, and create a range of shadow against the surface – depending on the time of day and the weather conditions. The overall intention is to create an attractive, dynamic and pleasing visual experience that will enhance and advance the forward concept and contemporary design of this extraordinary building.

The sculpture is organized vertically, which follows the stable and architectural lines of the building. This vertical visual movement is created using aluminum bars in a repeating pattern from bottom to top. Overlaid on this structure, are wave elements, smooth and flowing. The visual experience of these overlapping curves with the vertical bars is both calming and smooth. The waves are reminiscent of sound wave patterns, and the movement of water seen from above. The wall color beneath the artwork is a deep blue – reminiscent of deep water. Within the shapes that are created by the overlapping bars will be shaped spindles (or vanes) of aluminum that will spin constantly in the wind. These shapes will create a sparkling movement, which will compliment the building and the architecture. These spinning shapes will not overwhelm as they are compositionally balanced and will move at different rates as the wind swirls against the building.
The awnings of "The Panoramic" at 1321 Mission Street will be constructed in the same manner and with the same materials as the artwork above, but without any moving parts, "creating a connection from the street level upward" and "a play of light, shadow and pattern on the walkway" below.
In addition to the development's 160 units, half of which have been pre-leased to the California College of Arts for student housing, The Panoramic will include 3,400 square feet of ground floor commercial space along Mission, one parking space for a car share program, and secure storage for 240 bikes.