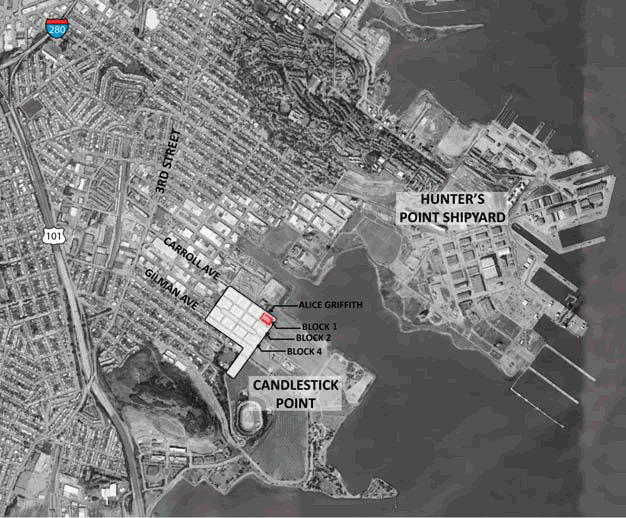 Built in 1962 with a total of 256 units of public housing across the 23-acre site, the first phase of redevelopment for the Alice Griffith neighborhood is slated to commence next month, with the building of 184 units of housing on Block two (2) and four (4) along the eastern edge of the neighborhood.
In total, the redevelopment plan calls for over 1,200 units of housing – 256 of which will remain public housing, 50 percent of which will be below market rate units, and 30 percent of which will eventually be developed as market rate housing (sometime after 2016) – to rise across the site.
And with the proposed building of a bridge across the Yosemite Slough, connecting Lennar's Hunters Point Shipyard development to Candlestick Point, Alice Griffith Block 1 at the corner of Carroll Avenue and Arelious Walker Drive is slated to become the northeast gateway to Lennar's "Urban Outlet" and new Candlestick neighborhood.
Construction on Block 1, with 122 units of housing as rendered above, is slated to commence by the end of next year.