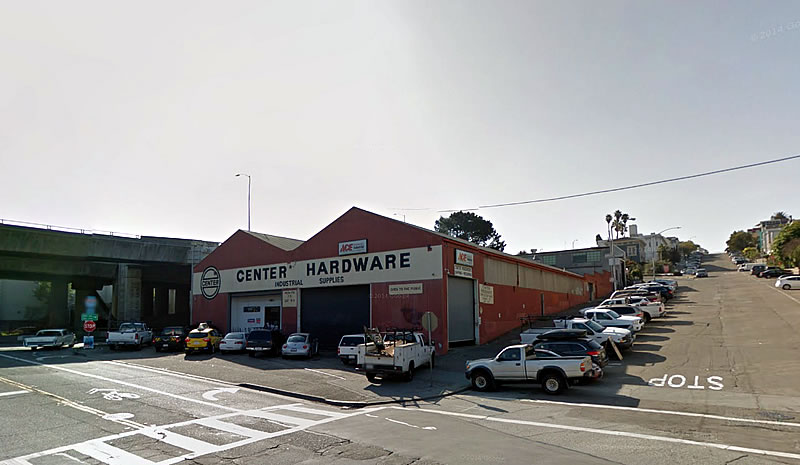 Plans to raze the Center Hardware and Supply Company warehouse at 999 Mariposa Street, and the Brickley Production Services building behind at 249 Pennsylvania Avenue, have been submitted to Planning for review.
And as proposed, a contemporary five-story building with 65 dwelling units over a ground floor of residential/commercial flex space and a basement garage for 65 cars would rise across the Potrero Hill site, a site which abuts I-280 to the east and Pennsylvania Garden to the south.
From Planning with respect to the development's draft design, which sites its rear yard facing the freeway:
The Planning Department questions the amenity and quality of the rear yard facing I-280 freeway and believes this compromises the exposure to the units facing onto it with a foreground of concrete, noise, and pollution….The existing Pennsylvania Garden to the south presents an opportunity and amenity that the project should embrace.
Also noted, the maximum amount of off-street parking permitted for the Eastern Neighborhoods parcel as proposed is 52 spaces, and "the proposed project is notably inconsistent with key [area] policies related to off-street parking and urban design."