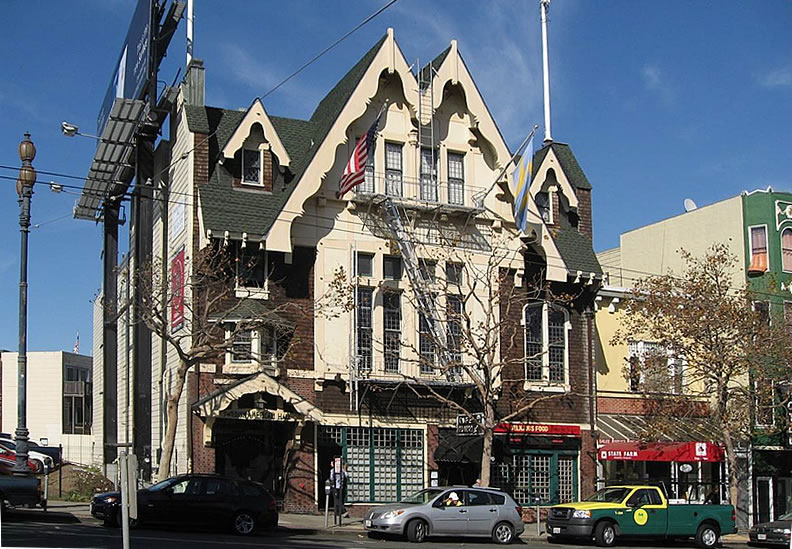 Designed by Swedish-born master architect August Nordin and built in 1907, the Swedish American Hall at 2168 Market Street is on its way to becoming an official San Francisco landmark.
From the Planning Department's Draft Landmark Designation report for the building, the renovation of which is nearing completion and includes a new Basque-inspired restaurant ("Aatxe") which will occupy the building's storefront spaces, a revamped event space in the ornamental hall upstairs, and a renovated Café Du Nord below:
Since its construction the building has served as the home of the Swedish Society of San Francisco, founded in 1875, while also providing a meeting place for scores of Swedish and Scandinavian fraternal and social organizations. At the time the building was constructed, it represented the aspirations of pioneering Swedes who began arriving in San Francisco during the Gold Rush, and who continued to come to the city during successive waves of Swedish immigration during the late 19th century.

The building is also emblematic of the development of a larger Scandinavian enclave in the Mission Dolores, Duboce Triangle and Upper Market area at the turn of the 20th century. For decades the Swedish American Hall served as home for businesses serving the Swedish community, including the Cafe Du Nord—opened in 1908—which today counts among San Francisco's oldest saloons and restaurants operating continuously from the same location.

The building is also architecturally significant as an embodiment of the distinctive characteristics of a type, period, and method of construction, as well as for being an architecturally significant work of master architect, August Nordin. The building's architectural finishes are unusually fine and demonstrate a superior level of craftsmanship. The building's exterior employs a rich palate of materials and ornament which conveys an unusually strong street presence commensurate with its use as a public meeting hall.

The interior features a number of lodge rooms that also feature superior detailing and are individualized such that each has its own distinctive identity, while remaining harmonious within the overall composition. The building's largest public assembly space, Freja Hall, features highly ornamental finishes and soaring truss work that rank it among the finest expressions of the Arts & Crafts style in California.
The Historic Preservation Commission's meeting to initiate the landmarking of the Hall is scheduled for tomorrow.