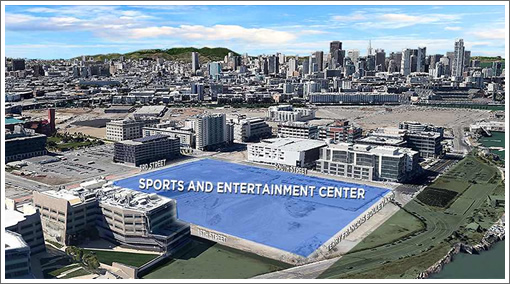 While the Golden State Warriors have yet to announce their specific plans for the San Francisco Sports and Entertainment Center to be built on 12 acres of land bounded by 3rd, 16th and South Streets, and Terry Francois Boulevard to the east, the basic elements of their Piers 30-32 plan remain in effect: the arena will hold about 18,000 seats, will rise around 125 feet in height, and will showcase NBA basketball games as well as concerts, events and convention activities.
The Warriors proposed development will be privately financed and the transaction with salesforce.com to acquire the land did not include any naming or sponsorship rights.
In addition, the build-out of the Mission Bay site will trigger the construction of a five-and-a-half-acre waterfront park across Terry Francois Boulevard, with water-oriented activities and large lawn areas to accommodate a variety of recreational uses similar to Marina Green.