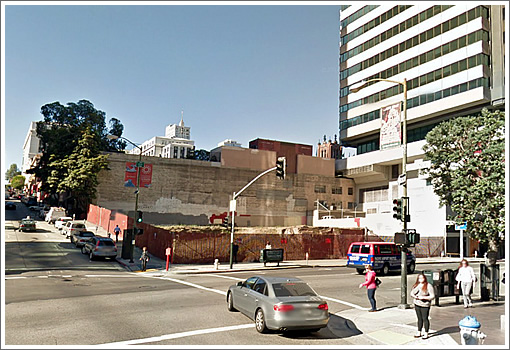 Zoned for development up to 300-feet in height, a 30-story hotel was proposed to rise on the northwest corner of Pine and Kearny in 1981.
In 1982, the proposal was changed to a 26-story office building, a proposal which was never approved for the 500 Pine Street parcel upon which a 10-story "skyscraper" had been approved to rise in 1906, but it would appear that only three stories were ever built.
In 2001, a primarily four-story building was approved for the Pine Street site with a rooftop garden connected to the adjacent St. Mary's Square Park, concessions which were required to gain approval for the development of 350 Bush Street which will cast a shadow upon the park.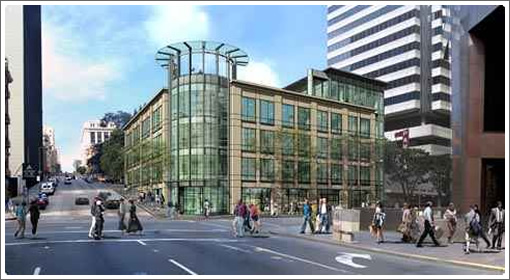 From Heller Manus with respect to the approved 500 Pine Street design:
"The dramatic curved corner is a gesture to the importance of this downtown urban intersection and the rooftop crown of the corner serves as a one-story outdoor frame with a glass trellis."
In 2007, the Lincoln Property Company acquired the site. From a company executive at the time:
"We believe the San Francisco office market is and will remain one of the strongest office markets in the country…our intention is to build the building that was approved by the Planning Commission with no material modifications."
The San Francisco market subsequently crashed and the project was put on hold.
As we first reported yesterday, however, Lincoln Property has partnered with the Gemdale Corporation to develop the 19-story building to rise at 350 Bush Street which will require the simultaneous development of 500 Pine as well.
And yes, Heller Manus' revised design for the 56,000 square foot building to rise at 500 Pine Street has materially changed and the corner gesture and crown are long gone: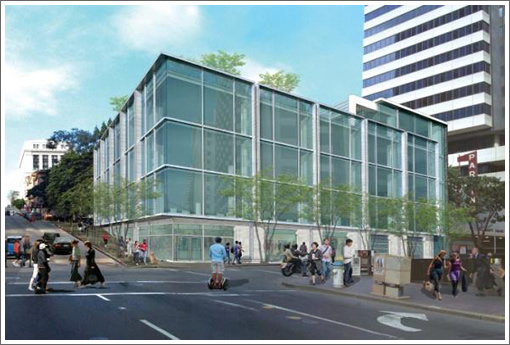 The development includes 8,000 square feet of retail space on the ground floor and parking for 29 cars in an underground garage. A partial fifth floor will open to the rooftop park.