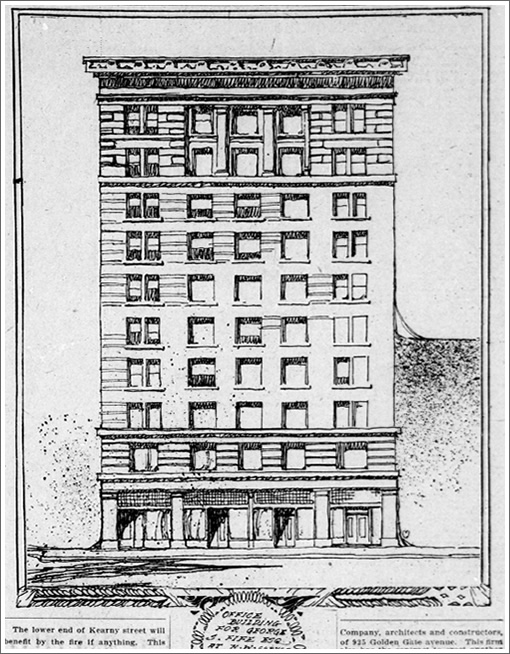 Following San Francisco's Great Quake and Fire in 1906, plans were laid for the lower end of Kearny Street, "which had been disfigured for years by rows of rookeries and little stores of shark clothiers," to blossom into a district of "skyscrapers."
The first bud of the district was to be a ten-story office building on the northwest corner of Pine and Kearny, the corner parcel now known as 500 Pine Street.
From the San Francisco Call, in May of 1906:
George S. Fife, who is already beginning to build in other sections of the city, has announced this determination to erect a ten-story office building [on the site].

Plans for the structure have already been accepted. The work will be done by the Ferrolite Construction Company, architects and constructors, of 925 Golden Gate avenue. This firm also has the contract to erect another skyscraper for Mr. Fife at California and Market Streets.

The building at Pine and Kearny streets will be a class A structure. The first floor will contain three stores and the rest of the building will be fitted up for modern offices.
The projected cost of building the ten-story skyscraper was to be "more than $197,000."
UPDATE: Our apologies if Fife's determination and the building fell short, for as a reader notes, a three-story building was photographed on the site in the 1940's.
And as such, we have since changed our piece about the primarily four-story building that's to rise on the 500 Pine Street parcel circa 2014 to read, "upon which a 10-story skyscraper had been approved to rise in 1906," versus, "upon which a 10-story building once stood."