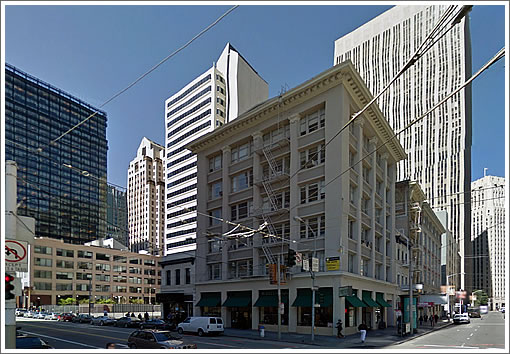 Foster + Partners will team with Heller Manus Architects to re-design the two towers to rise at First and Mission. The two million square foot project includes an 850-foot office tower fronting First Street and a 605-foot condominium tower fronting Mission.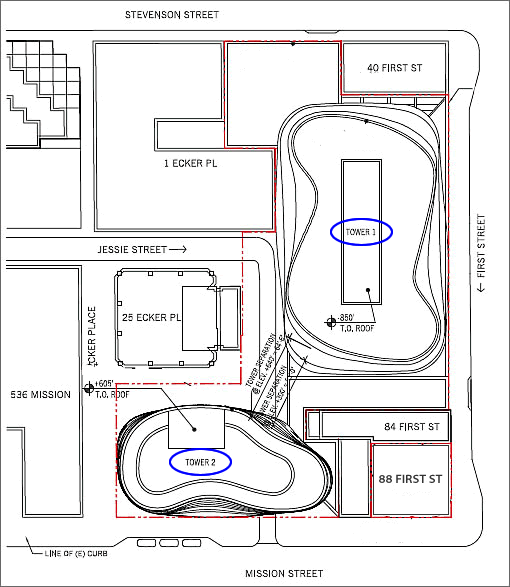 The existing 88 First Street building on the corner between the two towers to rise will be renovated rather than razed for a third tower as was previously proposed.
As we first reported last year, the 850-foot tower will contain 1,220,000 square feet of office space over ground-floor retail with a garage for up to 187 cars while the 605-foot tower will contain up to 500 residential units over ground-floor retail and a five-level subterranean parking garage for 136 cars.
From Lord Foster, Founder and Chairman of Foster + Partners, with respect to the project, the condominium portion of which will be taller than any residential project on the West Coast:
The First and Mission towers are incredibly exciting in urban and environmental terms bringing together places to live and work with the city's most important transport hub, the project further evolves a sustainable model of high density, mixed-use development that we have always promoted.

The 605-foot residential tower reflects the scale of San Francisco's existing tall buildings, while the 850-foot hotel, residential and office tower rises above it as a symbol of this new vertical city quarter. The super-sized office floor plates will give tenants a high degree of flexibility, and their open layout is supported by an innovative orthogonal structural system developed for seismic stability.

The point where the towers touch the ground is as important as their presence on the skyline. At ground level, the buildings are open, accessible and transparent their base provides a new 'urban room' for the region, and the new pedestrian routes through the site will knit the new scheme with the urban grain of the city.
TMG Partners and Northwood Investors paid $122 million for the Transbay site known as 50 First Street in bankruptcy court. A collection of seven parcels, David Choo had originally proposed to build a quartet of slender towers designed by Renzo Piano rising up to 1,200 feet on the site.