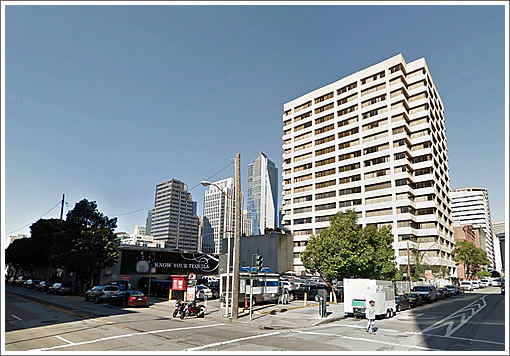 Award winning Chicago architect Jeanne Gang, the architect of Chicago's undulating 82-story Aqua, has been engaged by Tishman Speyer to design a tower in San Francisco.
While the Chronicle reports that Gang's engagement is "for an as-yet-undisclosed site in the Transbay district," we'd be willing to bet that it's Tishman's site at the corner of Folsom and Spear, which includes the parking lot at 100 Folsom Street and a couple of adjoining parcels across from the Infinity which is zoned for a tower to rise up to 300 feet.
Tishman still needs to acquire an adjacent city-owned parcel in order to proceed with the Transbay Block 1 development, which is likely why they're being tight lipped about the engagement.
UPDATE: For those celebrating Tishman's engagement of Gang but lamenting the idea that she'll be constrained by a site that's zoned for only 300 feet, we're going to hedge our bet above and offer some hope for additional height.
While the developer has yet to be selected, as we first reported in December, the Tishman team did attended the pre-submittal meeting for Transbay Block 8 proposals and was expected to bid for the site's development rights. And if it is Block 8 for which Gang has been engaged, she'll have 550-feet with which to work, assuming that Tishman wins the competitive bid.
UPDATE: Our original bet is in the money as the 100 Folsom Street site has since been confirmed as the location for Gang's design.