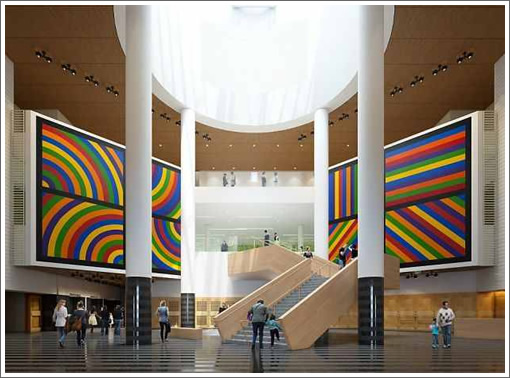 The design for Snøhetta's new grand staircase to rise within SFMOMA which replaces Mario Botta's original and will serve as a bridge between the existing atrium and the museum's 235,000 square foot expansion has been rendered and is on display.
The stair spans a single rise, from the ground level of the Haas Atrium to the Art Court on the second floor, signaling that the continuation of one's journey is directly ahead and keeping views toward that space open and transparent.

Rather than following a straight or spiral configuration, Snøhetta's variation on a switchback design is inspired by the notion of traversing an incline. This zigzag movement will slow visitors as they climb through a beloved part of the museum and encourage them to pause and take in the beauty of the atrium and the art installed there.

Embracing architect Mario Botta's original atrium design, the new stair will enhance the space for the display of art and allow a more direct experience of natural light streaming down from the oculus, which will be visible as a complete circle for the first time.
The expanded SFMOMA is on track for an early 2016 opening.