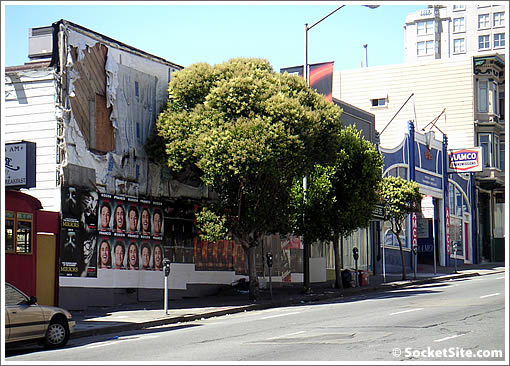 Across Van Ness Avenue from the two proposed 13-story towers to rise on Pine Street, Trumark Companies is working on plans to raze the five one and two-story buildings between 1527 and 1545 Pine Street and construct a 12-story building designed by Arquitectonica on the site rather the Stanley Saitowitz design which was once on the boards.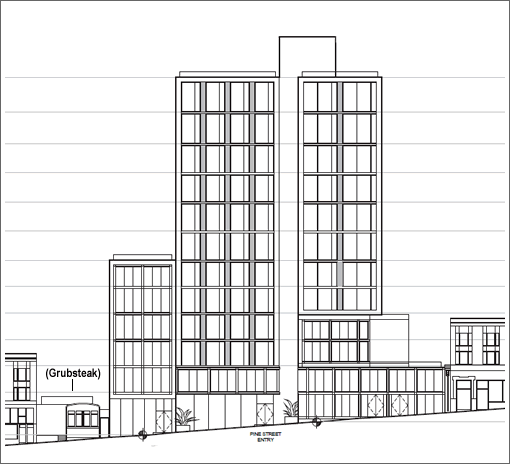 As proposed, the new Polk Gulch building would yield up to 107 residential units with 2,844 square feet of ground-floor retail and art gallery space along Pine and Austin streets and parking for 82 cars and 106 bikes in a two-level basement below.
The main entrance to the residential portion of the proposed building would be through a lobby located in the middle of the project site along Pine Street while pedestrian access to the residential units would also be available from Austin Street. The retail spaces would be located to the east and west of the residential entrance on Pine and a public/private art gallery space would be located on Austin at the southeast corner of the site.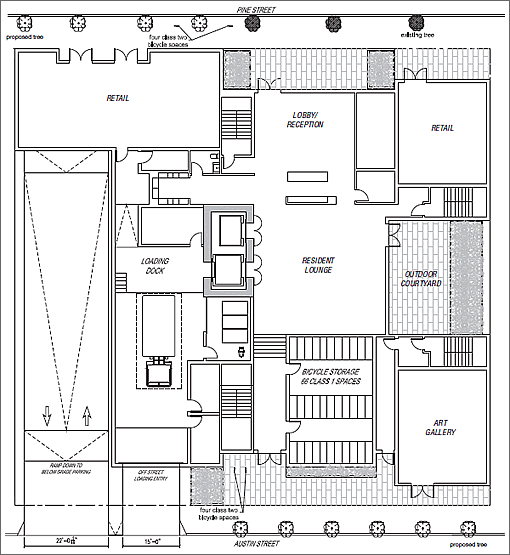 Vehicular access would be provided from two separate vehicular exit/entries on Austin; a 22-foot-wide driveway would provide access to the automobile and bicycle parking spaces while a 15-foot-wide driveway would provide access to an off-street loading space.
One potential sticking point, the building at 1545 Pine Street is considered an historical resource for the purposes of environmental review. And don't panic, Grubstake would survive.