With the re-skinning and conversion of 100 Van Ness Avenue from an office building to 400 apartments underway, the Emerald Fund has quietly submitted plans to raze the adjacent 108-foot building at 150 Van Ness and build a new 12-story, 120-foot tall building stretching all the way from Van Ness to Polk along Hayes Street.
In addition to the 150 Van Ness parcel on the corner, the proposed half city block project would cover the four adjacent surface parking lots and yield 429 new apartments over 9,000 square feet of retail and an underground garage with parking for 218 cars and 211 bikes.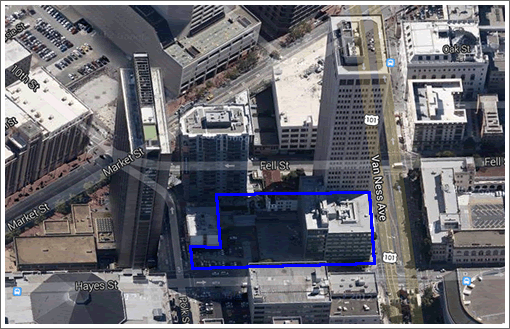 The propose unit mix for the 429-unit development is currently 112 two-bedrooms with the rest one-bedrooms and studios. As always, we'll keep you posted and plugged-in.