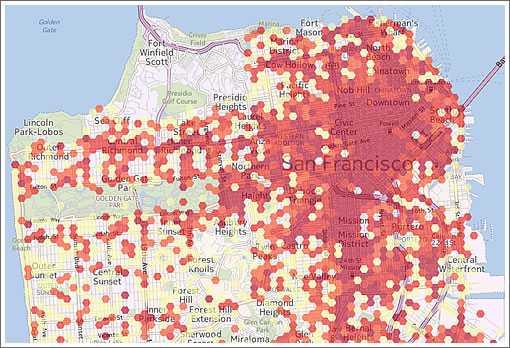 Mapping the 15,000 incidents reported to the San Francisco Police Department in January and February of this year, Gordon Wintrob and Peter Reinhardt attempted to analytically answer the question: does "crime climb" in San Francisco? Or in other words, do higher elevations provide a natural barrier to crime?
Segmenting the 15,000 reported incidents based on the elevation at which they occurred, the two found that crime levels drop off sharply at higher elevations: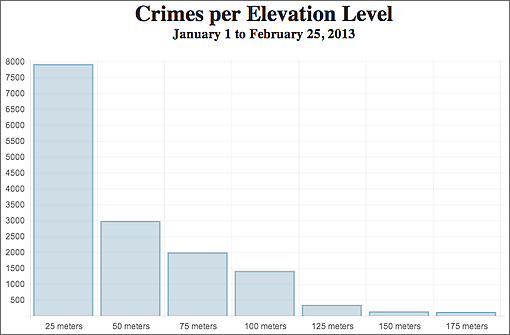 From the team:
One flaw in this analysis is that it could be a byproduct of the fact that there is less land mass in the city at these higher altitudes. In other words, if 90% of the city is at an elevation less than 25m, then 90% of the crime would occur at lower altitudes, assuming an even distribution of incidents. To correct for this problem, we took a distributed sample of 10,000 locations in San Francisco and divided the number of incidents in each elevation range by the number of locations in that bucket.
When normalizing for land mass at different elevations, the trend of lower crime at higher elevations was equally as dramatic:


Unfortunately the duo's analysis didn't also normalize for the difference in densities at the various elevations, a correlation which tends to be rather strong.
∙ Crime Doesn't Climb [github.com]