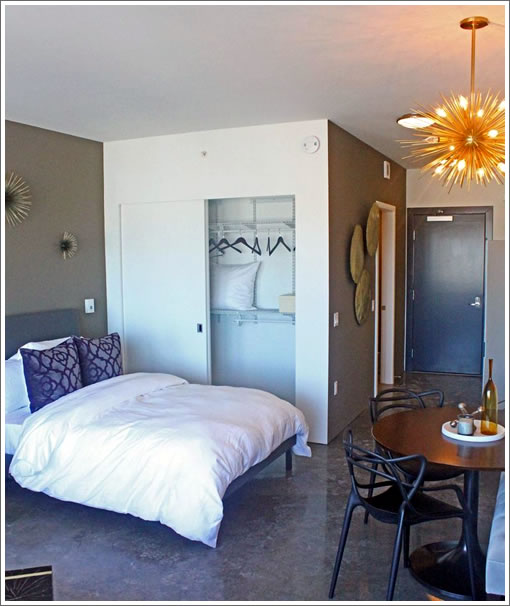 With move-ins now scheduled to start October 1, NEMA is moving from virtual to reality at the corner of Tenth and Market, having just put the finishing touches on their first model unit, a 470-square-foot studio on the sixteenth floor of NEMA's 317-unit south building.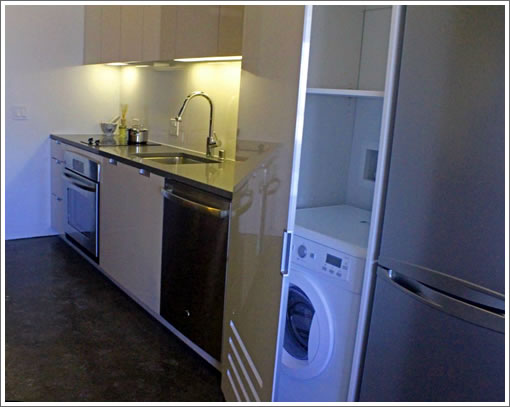 Note the in-unit laundry, a feature of all 754 units, with washer/dryer combo units in the studios, stacked in the one and two-bedrooms. And while the studios have electric two-burner cooktops over a full-sized oven, the one's and two's have four burners and are gas.
The target rent for the studio above is around $2,500 a month, plus $250 a month for parking if desired. Parking at NEMA will be valet. And for those willing to don a hard hat and sporty orange vest, the model unit should be open to the public next week.
Construction on NEMA's 437-unit north tower is expected to be completed in February, at which time the sales office will move and its current space below will become retail (as will an 8,000 square foot space along Market Street).