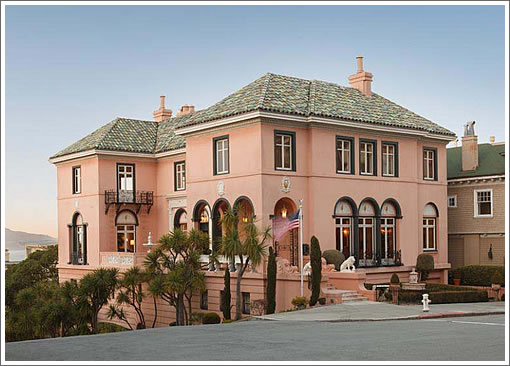 Having hit the market asking $16,500,000 this past March, the list price for the Aliotos' Pacific Heights home at 2898 Vallejo Street was reduced to $13,900,000 in April.
This afternoon, the sale of 2898 Vallejo closed escrow with a reported contract price of $11,750,000, roughly two million "under asking," closer to five million under original list.
As we first reported earlier this year, Frank and Frances Alioto purchased the 9,500 square foot home in 1973 for $225,000 following its use in the filming of The Towering Inferno, serving as the mansion for Richard Chamberlain's character, the cheapskate electrical engineer who cut corners and was to blame for the tower's fire.
With a tax basis of $439,219 thanks to Proposition 13, the total property tax bill for 2898 Vallejo was $5,205 in 2011. The property tax bill for the new buyers should now be closer to $137,369 per year.
And in terms of the average annual appreciation for the property, call it an effective 10 percent per year over the past 40 years.