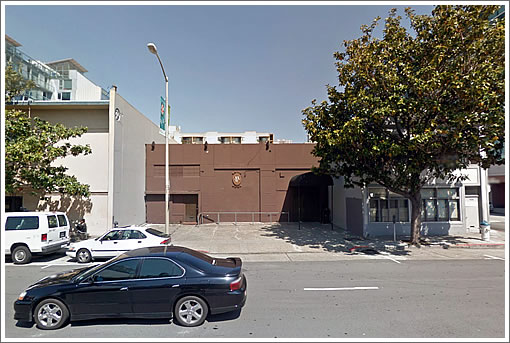 The owner of the one-story building at 750 Harrison Street, between Third and Fourth streets with a frontage on Rizal as well, is quietly working on plans to raze the one-story commercial building on the site and build an 8-story building of up to 85-feet in its place.
Currently home to SoMa's Manor West nightclub, the early designs for the proposed 8-story building on the site include 77 "Single Room Occupancy" units averaging 375 square feet; 2,826 square feet of commercial space; a common 2,671 square foot landscaped roof deck for residents; and one parking spot.
Currently zoned for 85-feet, San Francisco's proposed Central Corridor Plan maintains the 85-foot height limit on the Harrison Street side of the 750 Harrison Street parcel but downzones the Rizal Street side to 45 feet "in order to reduce any net new potential for shadow on the Alice Street Community Garden" which is due north of the site.
The Central Corridor Plan is currently anticipated to be up for adoption in late 2014. Approvals for the proposed 750 Harrison Street project would be assessed based on the height districts in place at the time that the entitlement's to build are sought, hence the "quickly" above.