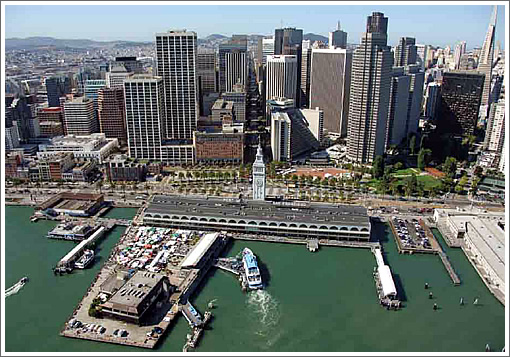 The proposed expansion and improvement of San Francisco's Ferry Terminal includes three new berthing facilities, new covered passenger queuing areas, and a new public Embarcadero Plaza located between the Ferry and Agriculture buildings, infilling the existing lagoon (click to enlarge).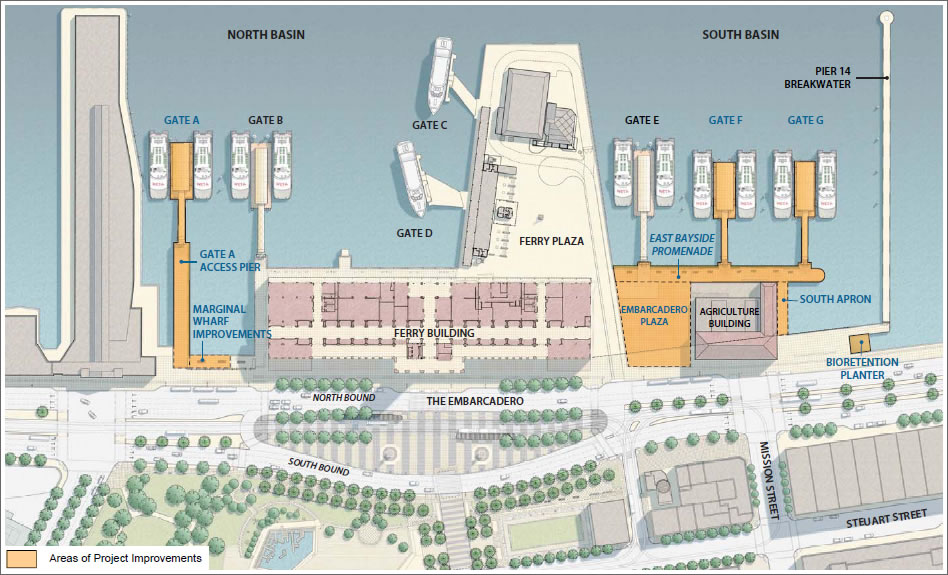 San Francisco's Historic Preservation Commission (HPC) will hold a public meeting on the project and provide their comments on the proposed Ferry Terminal project this afternoon.
The HPC is slated to generally support the designs for the new Embarcadero Plaza and berthing facilities, but they're not too keen on the proposed photovoltaic canopies, questioning their function, efficiency, and visual fit with the Ferry Building.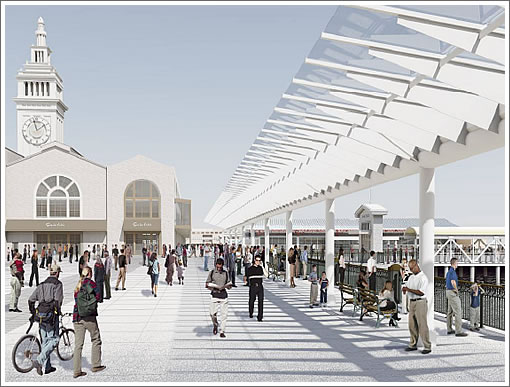 The Commission's reaction and draft response to the proposed canopies, a position which should be formalized this afternoon:
The HPC concurs with the recommendations to refine the design of the new canopies and eliminate the canopy extending in front of the north façade of the Ferry Building. Overall, the HPC finds that the design of the new canopies should be refined to better relate to the adjacent historic resources and the surrounding historic district.

Specifically, the HPC questioned the function and efficiency of the new photovoltaic panels on the canopies given their location and orientation. Further, the HPC found that the new canopy design would not appear to sufficiently shield passengers from wind and rain, due to the current design's height and upslope.

In addition, the HPC commented on the number of canopies and their impact upon the view of the Ferry Building and the San Francisco Bay. The HPC questioned the number of varying design expressions introduced into the area, which would be caused by the new photovoltaic canopies in combination with the existing East Bayside Promenade, entry portals to the new berthing facilities, and other existing site elements.

The HPC also requested additional information on the queue time for the various ferry terminals and the justification for permanent canopies. The HPC questioned whether the destinations with longer queues could be moved to one of the other berthing facilities with longer canopy elements. Ultimately, the HPC found that the current design is not compatible with the surrounding historic resources, and would impact the visual setting of the Ferry Building.
With seven new routes and ferry service from downtown San Francisco to Berkeley, Richmond, Treasure Island, Hercules, Martinez, Antioch and Redwood City planed to be introduced between 2014 and 2030, San Francisco's ferry terminal will serve a projected 32,000 riders per weekday by 2035, up from around 10,000 passengers across six ferry routes today.