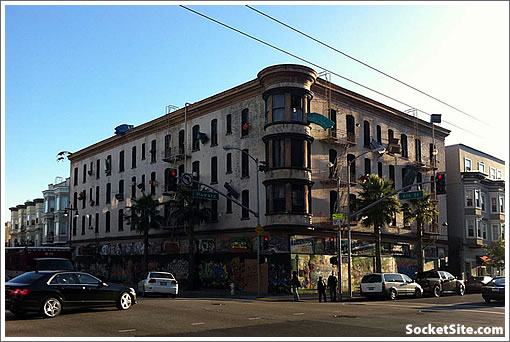 In order for Mercy Housing to move forward with their plans to build a new nine-story residential building with 67 affordable housing units on the corner of 6th and Howard Streets, they need permission to raze the existing Hugo Hotel and Defenestration.
Situated in the middle of the newly defined "6th Street Lodginghouse Historic District," the Hugo Hotel has been deemed a contributing resource for the District and the Mayor's Office of Housing (MOH) "has determined that the proposed [project] would result in an adverse effect, due to the demolition of 200 6th Street."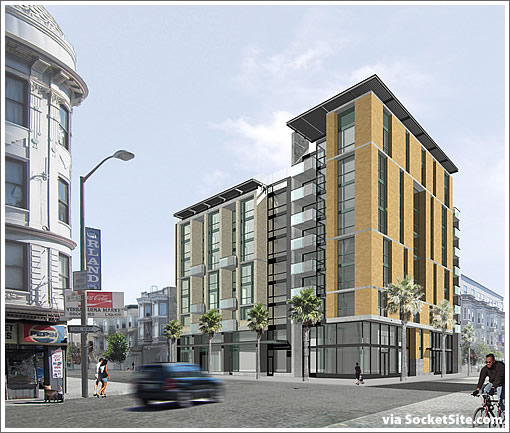 There is, however, a plan to address the adverse effect and allow Mercy to move forward:
To address the adverse effect on 200 6th Street (aka Hayston Apartment Building), MOH would execute a Programmatic Agreement with the [State Historic
Preservation Officer] that would require mitigation of the adverse effects of the undertaking. These mitigation measures are designed to address the adverse effects on the historic architectural resources and include the following:

1. Historic American Building Survey (HABS) documentation consisting of a written historical report and archival photographic documentation; and,

2. An interpretive exhibit featuring the history of the site, previous buildings on the site and surrounding historical context. The purpose of the interpretive exhibit is to commemorate the significance and history of the site, the impacted historic resources and the district.
San Francisco's Historic Planning Commission will weigh in on the proposed measures to mitigate the adverse effect of razing the Hugo Hotel next week.