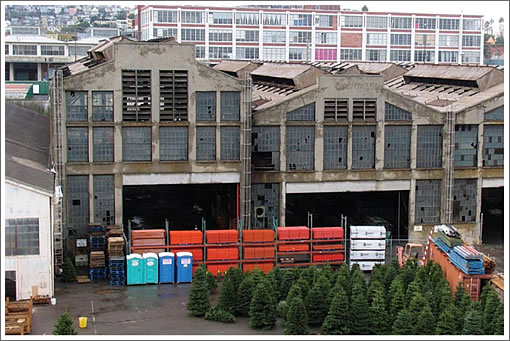 The term sheet for the $58.5 million rehabilitation of San Francisco's 20th Street Historic Buildings, the historic core of the Pier 70 redevelopment project, is up for review by San Francisco's Board of Supervisors this week.
Under the proposed terms, Orton Development will invest up to $14 million in equity in exchange for a 66-year ground lease for the six historic buildings. The Port will contribute $1.5 million to the project with the balance financed by way of debt and Federal tax credits.
Orton will earn a 14 percent per year return on their equity, paid by way of collected rents on the renovated buildings in which the City will eventually share. According to the Port, "the 14% return on investor equity in a real estate deal is on the low side of returns demanded by investors for at-risk developments."
The key words in that last sentence with respect to the proposed return: "equity" and "at-risk" (i.e., their money, the return of which is not guaranteed).
Orton's proposed uses for the six buildings once they have been rehabilitated:
Bethlehem Steel Office Building – Office with ground floor food service
Union Iron Works Office Building – Office
Union Iron Works Machine Shop – Manufacturing and light industrial or arts-related use
Union Ironworks Warehouse – Flex space with state-of-the-art data capabilities
The Powerhouse – Restaurant, meeting rooms, classrooms, and a gym
Building 14 – Recreation or light industrial with retail and office
Assuming the term sheet and lease are approved, construction is slated to begin spring 2013 with first re-occupancy of the historic buildings in 2014.