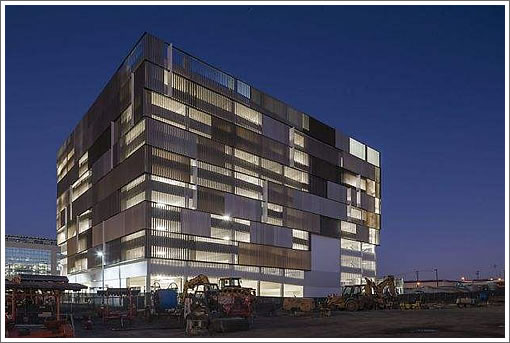 Speaking of parking, from John King with respect to San Francisco's newest parking structure, the 627-space Mission Bay garage designed by WRNS Studio at 16th and Owens which will serve the UCSF Mission Bay Medical Center which is slated to open in 2015:
Traditionalists will recoil at a 10-story cube wrapped in silvery rows of teardrop-shaped aluminum blades lined up so that the rows are solid from some perspectives and see-through from others. San Franciscans who loathe private automobiles will question why another parking garage should even exist.
But there's kinetic beauty in a structure that's designed to be glimpsed on the move, or out of the corner of your eye, and to shift in tone the next time you look. It taps into a basic truth – that smart buildings fuse the reality of what they do with the potential of where they are.
Noting that "a garage, or any other sizable structure, also has a role to play in the larger city," King adds, "when you see this one rise to the challenge, you wonder why other buildings in this part of Mission Bay can't strike a wide positive note as well."
And as an aside, we have an update on the Mission Bay bagpiper.
∙ Mission Bay garage's architectural edge [SFGate]
∙ The Building Of UCSF's New Mission Bay Medical Center Is Underway [SocketSite]
∙ The Daytime Downside To The Development Of Mission Bay [SocketSite]