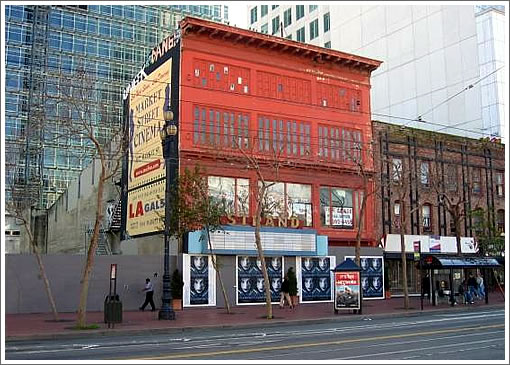 Constructed in 1917, the Strand Theater at 1127 Market Street has sat vacant and boarded up since 2003 when it was raided and closed down by the San Francisco Police Department, having last served as an adult video venue and haven for drug users.
Purchased by the American Conservatory Theater (ACT) earlier this year, ACT's plans for renovating the four-story building on Market between Seventh and Eighth Streets are now making their way through Planning.
The existing floor plan and configuration of the building are as follows: The ground floor contains the lobby, movie screen, and main (orchestra) seating area/auditorium. The upper three floors do not extend the entire length of the building. The existing theater provides seating for approximately 1,100 people. The seating area includes rows of ground-floor orchestra seating and rows of seating in a partial second-floor balcony with its access from a marble-clad staircase in the center of the front lobby.
The proposed project includes building renovations to convert the former combination movie theater into a live performance theater, with associated rehearsal space/black box theater, costume and sound/ lighting facilities, offices, and a ground-floor cafe, for the American Conservatory Theater (ACT). The live performance venue would have 299 seats and would serve as a second stage venue for smaller productions and performances by ACT's Master of Fine Arts Program students and other small theater companies.
The façade of the building will be repainted without any changes to the wall cladding while new windows and entrance doors will be installed on the ground floor and an 18-inch high awning with a 14-inch LED sign band will be installed along the front of the building.
While we're all for the renovation of The Strand, we would have loved to have seen the major mix-use redevelopment that was once on the boards for the building brought to life: