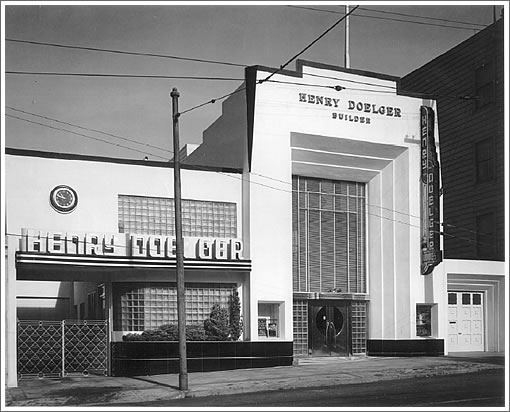 The Art Deco Doelger Building at 320-326 Judah Street was built in 1932, serving for two decades as the headquarters, warehouse and sales office for San Francisco builder extraordinaire Henry Doelger. A Streamline Moderne addition was added in 1940.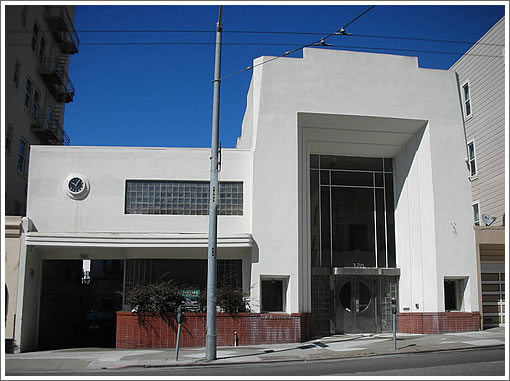 Earlier this month, the Doelger building was purchased out of probate for $1,450,000.
A bit of background on the eccentric Henery Doelger and his building business that transformed San Francisco from Planning's Landmark Designation Report, a designation San Francisco's Historic Preservation Commission will consider initiating this week:
For two decades, beginning in the mid 1920s into the 1940s, merchant builder Henry Doelger constructed thousands of single‐family houses atop the sand dunes in San Francisco's emerging Sunset District neighborhood. Pioneering mass construction house building techniques such as assembly‐line production, Doelger's Sunset District houses rapidly transformed large swaths of southwest San Francisco…
Designed for middle‐income home buyers and built to Federal Housing Administration specifications, Doelger's houses share near‐identical massing, floor plans, materials, and form, with differentiation provided by a profusion of facade styles. Doelger is widely considered San Francisco's most prolific and significant merchant builder active during the pre‐War era. In 1946, the San Francisco Chronicle dubbed Doelger "the poor man's Frank Lloyd Wright," and his residential tracts are often affectionately referred to as Doelgerville and Doelger City.
Doelger's financial success allowed him many personal luxuries and stories about him abound in the society pages of local newspapers. He collected cars, yachts, toupees, shoes, ties, and custom‐made sport coats. On Sundays the Doelgers often invited 10 to 40 of their friends to join them on their yacht. Nearly everyone knew Doelger, and some — especially columnist Herb Caen — derived some pleasure from hearing gossip about the millionaire.
Caen opined about a Doelger purchase in November 1954 writing, "Henry Doelger's '54 Cad El Dorado has 4,500 miles on it, so naturally he's turning in the old wreck on a '55. Gets it Wednesday." He reported again three days later, "Henry Doelger not only bought the first ''55 El Dorado in town, he got a new Fleetwood, too. 'For the nighttime,' he explains patiently to the peasants."
The Doelgers were known for their extravagant lifestyle and eccentric hobbies. Henry's wife, Thelma, had a heart for stray animals and was drawn toward the exotic. The San Francisco Examiner reported in 1940 that the Doelgers' pet deer, Timothy, had escaped and was wandering around 15th and Taraval Streets in the Sunset District. Construction workers employed by Doelger recognized the animal and he was returned home, where he was "welcomed by three Great Danes which [were] his constant playmates."
In addition to the deer, the Doelgers also had pet monkeys. Herb Caen reported in 1949 that one of them, Chichi, broke several dishes and glasses in their home before biting Thelma, requiring her to get stitches. Following the incident, the family donated the monkey to the San Francisco Zoo.
The Planning Department recommends the Historic Preservation Commission approve the proposed designation of 320-326 Judah Street as a San Francisco landmark as the building "retains sufficient integrity to convey its association with a significant person, Henry Doelger; a significant event, the transformation of the Sunset District; and significant architecture, its Art Deco and Streamline Moderne design."