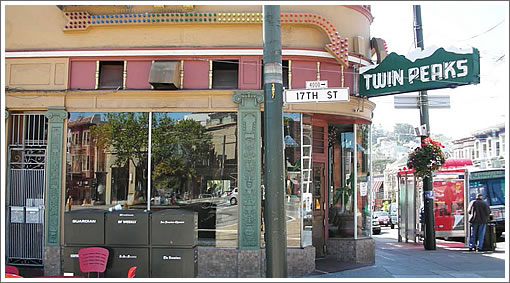 An old Irish dive bar with its windows covered so that "wives couldn't see their husbands drinking" when purchased by two lesbians in 1972, the windows of the Twin Peaks Tavern at 401 Castro and 17th Streets were uncovered, becoming the first openly gay bar in San Francisco to reveal, rather than obscure, the view and views of its patrons.
The first known gay bar to feature full length open plate glass windows, the Twin Peaks Tavern is a living symbol of the liberties and rights gained by the lesbian, gay, bisexual, transgendered (LGBT) community in the second half of the 20th century…
Housed in a turn-of-the-century building with an intact 1923 Mediterranean Revival-style façade in the heart of the Castro, the bar retains its expansive windows and other character-defining features and continues to serve the LGBT community. The "U"-shaped bar is provided with a wooden foot rest, shaped wooden lip, and Formica top surface. Free-standing wood stools with vinyl upholstery surround three sides of the bar.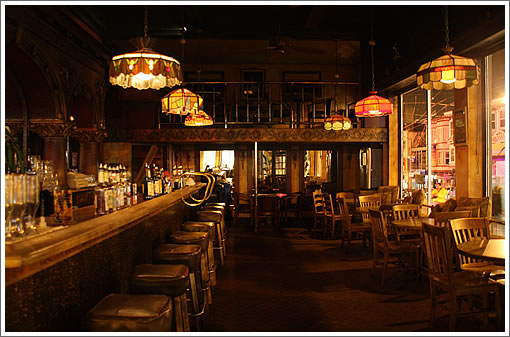 The more elaborate back bar is a pre-Prohibition piece of furniture. The unpainted wood lower section provides for open storage of liquor bottles, as well as closed cabinets and drawers. The upper section consists of three large arched openings with mirrored backs. Each arch sits on a squat wooden column with a gilt plaster composite capitol. The arches are adorned with additional plaster ornamentation. Stained glass pendant lamps hang within each arched opening.
Along with the Doegler Building, the Planning Department's recommendation and case for the Twin Peaks Tavern to be designated as an official San Francisco Landmark will be considered by San Francisco's Historic Preservation Commission this afternoon.
∙ The Prolific Henry Doelger And His Likely To Be Landmarked Building [SocketSite]
∙ Article 10 Landmark Case Report: Twin Peaks Tavern (401 Castro)[sfplanning.org]