If your agent has suddenly become bullish on One Rincon Hill unit #2904, a plugged-in tipster notes there might be more than one reason why: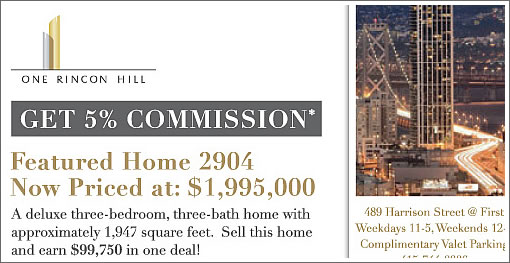 According to an email sent to agents yesterday, the One Rincon Hill sales office is now offering a 5 percent commission to the "buyer's agent" who sells the 1,947 square foot three-bedroom unit. Now priced at $1,995,000, to quote the email titled, "Five Percent + This Home= One Huge Payday!": Sell this home and earn $99,750 in one deal!
The same sized unit one floor above, 425 1st Street #3004, resold for $1,700,000 in March 2011 having originally sold for $2,019,000 in September 2008, down 15.8 percent.
As plugged-in people know and knew, back in 2009 the One Rincon Hill sales office was offering 20 percent discounts on unsold units and a 4 percent commission to agents.
∙ Non-Secret At One Rincon Hill: "Over 20% Off" And 4% Commissions [SocketSite]