Tomorrow, San Francisco's Board of Supervisors are scheduled authorize the payment of $225,000 to settle the lawsuit filed by "Waterfront Watch" over development activity related to the America's Cup and on which former San Francisco Board of Supervisors president Aaron Peskin was a petitioner.
In addition to $150,000 for a bird study, the settlement includes $75,000 for attorneys' fees. And from point number four of the settlement agreement:
The Port shall retain that portion of Pier 29, considered by Petitioners to preserve the historic fabric of Pier 29 as set forth in the detail drawings attached to this Agreement as Exhibit 2. The Port shall retain the services of a qualified historic preservation architect to prepare the final architectural design for the east and south ends of Pier 29 as proposed for the long-term use of Pier 29 following the conclusion of the America's Cup Event, which shall be provided to the Petitioners and Administrative Appellants and submitted to the City's Historic Preservation Commission (HPC) to review and comment on its compatibility with the architectural and visual characteristics that define the Embarcadero National Register Historic District and consistency with the Secretary of the Interior's Standards.
Of course, satisfying point number four might now be a bit problematic and costly.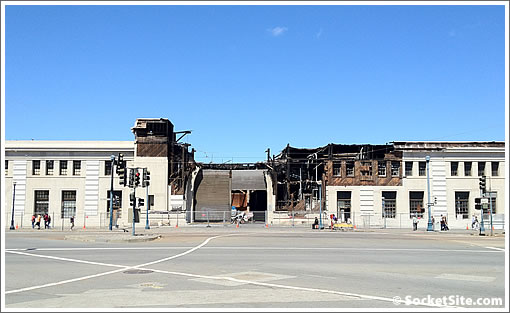 As always, we'll keep you posted and plugged-in.
∙ Piers 30-32 Dropped From AC34 Development Plan, Lawsuit Filed [SocketSite]
∙ Waterfront Watch Settlement Ordinance [sfbos.org]
∙ Pier Pressure And The Price San Francisco Taxpayers Might Pay [SocketSite]
∙ Pier 29 On Fire: Teams Racing To Save The America's Cup Site [SocketSite]