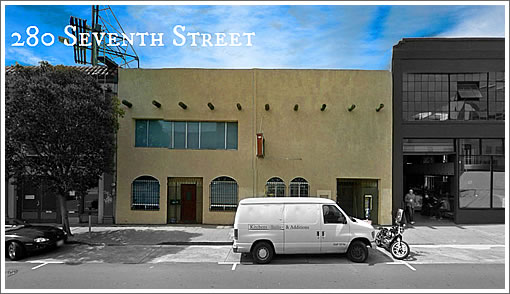 A little while back the owners and operators of the Café in the Castro purchased the Rawhide II club building at 280 Seventh Street, once "the largest and…only Country Western Dancing club in San Francisco."
As proposed, the existing building will be razed and a four-story building with a club featuring an "entertainment area with stage for live performances, seating and a dance floor," a restaurant "in the style of a locally owned and sourced 'Cheesecake Factory' style eatery," a roof top garden, and two residential apartments facing Langton Alley will rise.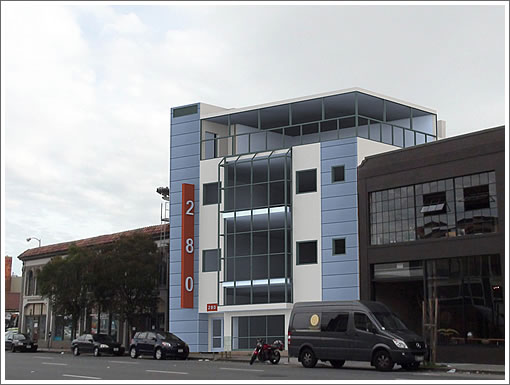 From the owners with respect to their plans:
We will be a neighborhood-serving restaurant while still recognizing the importance of visitors to the city coming to such places as Moscone Center. Our nighttime focus will be on the diversity you find at an LGBT entertainment venue with the inclusiveness found at Café duNord or Slim's. Yes, that means we will have a stage and will be featuring performance as well as dance events. We envision the mix of entertainment as diverse as possible and are planning for a small but well equipped stage for live performances.
From Lodging in Public with respect to mixed feelings on a disappearing barrier dividing SoMa, a "[defense] against the good and bad effects of encroaching prosperity":
The Sixth Street skid-row corridor down the middle of SoMa served for the past three decades as a dangerous-looking (sometimes actually dangerous) buffer that prevented boring or timid people in the convention and financial zones to the east of us from walking very far at all west of the Yerba Buena complex around Third that includes Moscone Center. (Yerba Buena, of course, replaced San Francisco's former Skid Row in the hard-fought 1970s urban renewal rip-out. A lot of the people and functions it displaced moved over to Sixth.)

So even through the Web 1.0 boom, those of us living South of Market and west of Sixth were spared the glass-front high-rises, the loud after-work joints full of junior stock traders in mating plumage, and the restaurants and night spots catering to Midwestern conventioneers venturing out from Moscone Center — that's all in the alien territory, confusingly also called SoMa, that stretches from Fifth east to the Embarcadero by the Bay Bridge. Over here, things have managed to stay a little more alternative.

Sixth Street, however, is losing its fear factor. It's going hipster. Its function as a containment zone for vice and dysfunction is fading as its property values rise. I think its future really is what a younger-generation SRO landlord predicted to me more than ten years ago: to provide hostel-type accommodations and entertainment for young people who want to go somewhere a bit different, but not perhaps too different.
Assuming Planning's approval, the developers hope to host a grand opening in 2014.