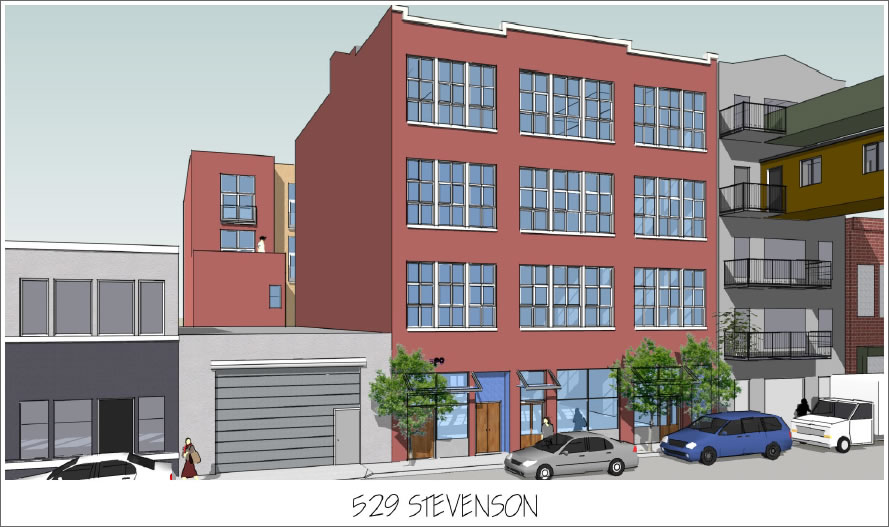 Last month the project sponsors behind the proposed conversion of 527‐529 Stevenson Street from a 42,600 square foot, four-story industrial building to 67 residential units with eight parking spaces and a 210 square foot ground floor commercial space presented their plan to San Francisco's Planning Commission.
At the hearing, the Commission "expressed concerns relating to the design of the building, the small size of the commercial unit, and the high number of dwelling units that require a Variance for the exposure requirements of Planning Code Section 140."
And at the request of the Commission, the sponsors have made the following changes:
• Reduced the number of dwelling units from 67 to 62,
• Decreased the number of studio units from 48 to 43,
• Reduced the number of affordable dwelling units from ten to nine,
• Expanded the commercial space from 210 square feet to 535 square feet,
• Dedicated one of the eight spaces in the garage for car-share parking,
• Moved bicycle parking closer to the residential entrances and exits,
• Expanded the interior courtyards to provide more light and air to all units and to reduce the number of dwelling units that require an exposure Variance from 40 to 24, and
• Modified the exterior design by: changing finishes, replacing the proposed windows with windows featuring a muntin pattern similar to the existing windows in the building, eliminating the "eyebrows" above the windows on the top floor, eliminating gates from, and recessing, the ground-floor residential entrances, and placing glass awnings over all the ground-floor commercial and residential entrances.
On Thursday, the Planning Commission will review the revised proposal and designs.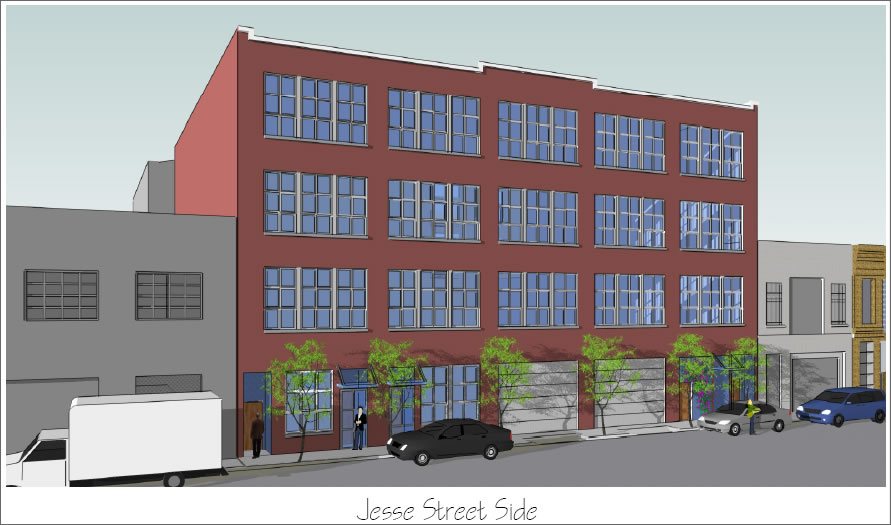 Click either of the images above to enlarge.
∙ 67 Units For Young Professionals Between 6th And 7th As Proposed [SocketSite]
∙ 527-529 Stevenson Street Proposal and Variance Request [sfplanning.org]