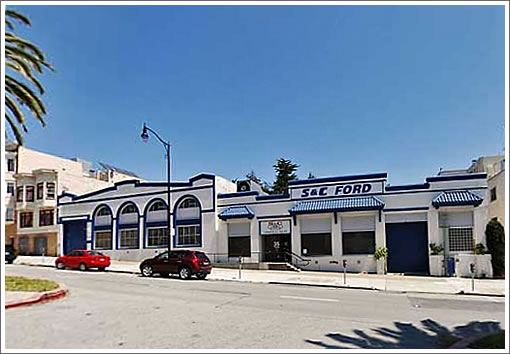 As plugged-in people know, the proposed and far from approved development of 25-35 Dolores would result in the demolition of the two 25-foot-tall "S&C Ford" commercial garages and the construction of a four-story, 40-foot-tall, residential building with 47 units and below-grade parking for 40 in their place.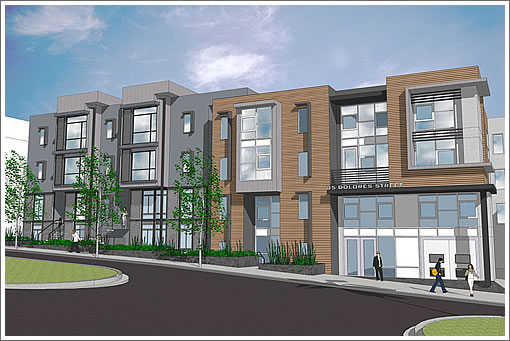 As we first noted in July when the project's Draft Environmental Impact Report (DEIR) was released, while characterized as potentially cost prohibitive by the developer, an "Alternative B" design for the project would preserve the existing facades in the name of preservation but only yield 18 units and parking spaces versus the 47 and 40 as proposed.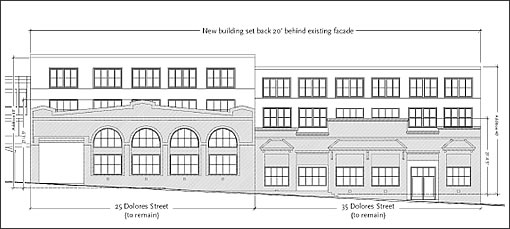 Since the publication of the project's DEIR, San Francisco's Historic Preservation Commission has come to the conclusion that 25 and 35 Dolores are eligible for both the National and California Registers of historic resources. And California's State Historic Preservation Officer has weighed in as well:
My office is concerned that the City of San Francisco may be setting a disturbing precedent with the demolition of the resources at 25-35 Dolores Street. Within the DEIR the buildings were determined eligible for the California Register by the Planning Department's preservation specialist while the Frederick Knapp Architects Report concluded that the two Buildings retained their integrity as historic resources.
The City of San Francisco has a legal obligation to comply with [California Environmental Quality Act's (CEQA's)] procedural and substantive mandates, and moreover, as a lead agency, "to identify the significant effects on the environment of a project, to identify alternatives to the project, and to indicate the manner in which those significant effects can be mitigated or avoided." The California Appellate courts have held that a demolition is an adverse impact that cannot be mitigated below a level of significance.
My office is concerned that the Planning Department's use of the Historic American Building Survey (HABS) documentation as a mitigation measure sets a dangerous precedent and is a misuse of the HABS standards. As the DEIR states, HABS documentation "would reduce the Impact CP-1 [demolition], but not to a less-than-significant level." For the purposes of CEQA HABS documentation is clearly inadequate as mitigation for demolition of a historic resource.
Given the alternatives provided in the DEIR my office would prefer the adoption of Alternative B: Preservation Alternative, or another similar alternative. Although Alternative B, "could be financially prohibitive," this alternative would not demolish the resources and would also restore them in compliance with the Secretary of the Interior's Standards. With CEQA's stated purpose to, "Prevent significant, avoidable damage to the environment by requiring changes in projects through the use of alternative or mitigation measures when the governmental agency finds the changes to be feasible," we encourage the Planning Department to adopt Alternative B or a similar preservation alternative for the 25-35 Dolores Street project.
The Planning Commission hearing to review the 25-35 Dolores street Environmental Impact Report is currently scheduled for April 7, 2011.
And in terms of precedence, keep in mind that a number of other proposed projects in San Francisco, including those for the Fairmont Hotel and North Beach Library, have proposed the use of HABS as a mitigation measure for the demolition of historic resources as well.
∙ The Plans For 25-35 Dolores Street (S&C Ford Garage) As Proposed [SocketSite]
∙ 25-35 Dolores Street DEIR Comments and Responses [sfplanning.org]
∙ Fairmont Hotel Plans Front And Center And Up For Approval Thursday [SocketSite]
∙ North Beach Library/Joe DiMaggio Playground Master Plan Report [SocketSite]