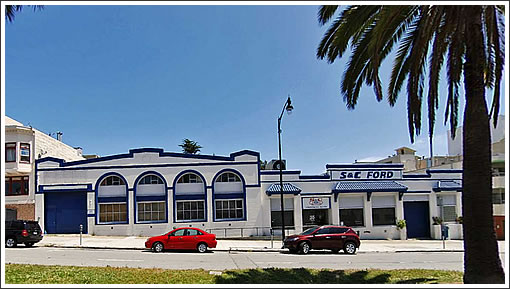 The proposed development of 25-35 Dolores would demolish the two existing 25-foot-tall commercial garages tagged S&C Ford and construct a four-story, 40-foot-tall, residential building with 47 units and a one-level, below-grade parking garage with 40 spaces.
The proposed project's approximately 51,130 gross sq.ft. of residential space, located on the first through fourth floors, would be a mix of 7 studios, 18 one-bedroom, 18 two-bedroom, and four three-bedroom units, ranging in size from approximately 488 to 1,306 sq.ft.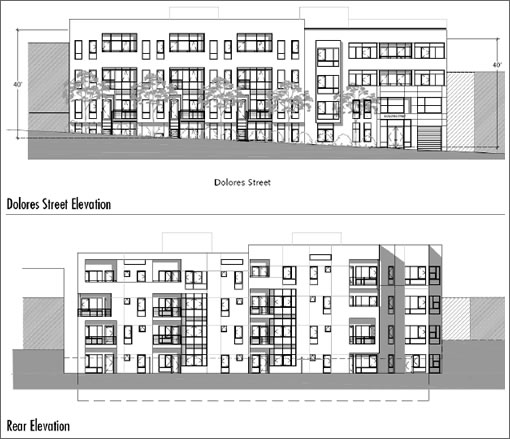 The proposed project would require Conditional Use Authorization from the Planning Commission for residential density greater than 1 unit per 600 sq.ft. of lot area; for providing parking in excess of three spaces for every four dwelling units; and for development on a lot greater than 10,000 sq.ft. in size. The proposed project would require a Variance from the Zoning Administrator for providing a yard less than 35 percent of lot depth (the project sponsor proposes a 25-percent rear yard).
In the name of preservation (objections to the development have included "the loss of an important historical architectural resource for the neighborhood"), alternative designs would preserve the exisiting facade.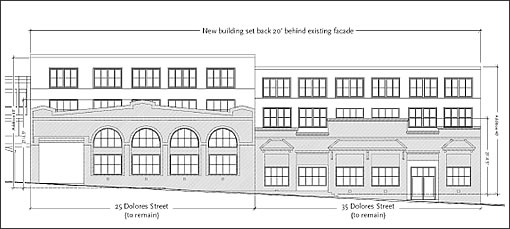 ∙ 25-35 Dolores Street Draft EIR [sf-planning.org]