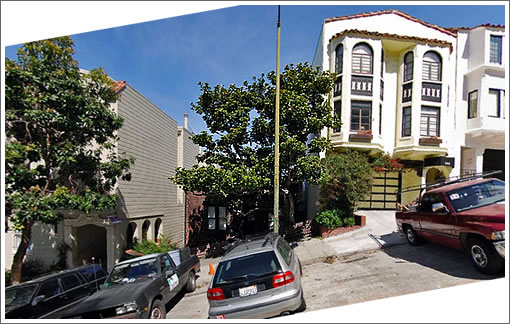 From the Chronicle with regard to the pending demolition of 1268 Lombard:
"Over preservationists' protests, city officials are poised to approve demolition of one of San Francisco's oldest buildings – a two-story, wood-frame Russian Hill cottage built in 1861. The city attorney's office, meanwhile, has opened an investigation into whether the owner willfully neglected the building at 1268 Lombard St. to skirt rules intended to protect historic structures.
"It looks to me like this was allowed to deteriorate so they don't have to deal with routine rules, so they [get] to have an emergency demolition and tear down the building and have a vacant lot, which in San Francisco is the most valuable thing you can have," [Building Inspection Commission member Debra Walker said]."
Valuable as long as one can secure permits to build. And in this case, we'd hate to be the ones applying.
UPDATE: The recent ownership trail from a plugged-in reader:
"Property was recently owned by MJSF Investments, LLC and was transferred to 1268 Lombard Street, LLC. MJ is registered to Marge Vincent at 2501 Mission Street, a Vanguard Properties office. Current entity, 1268, is registered to James Nunemacher at 1841 Market Street."
James Nunemacher is the CEO Vanguard Properties.