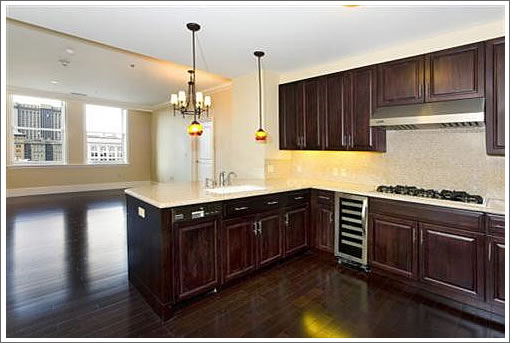 As we wrote this past October:
Purchased for $1,481,000 in October 2007 ($1,239 per square) and then taken back by the bank this part March with $1,234,899 due, the two-bedroom Ritz-Carlton Residences (690 Market) #1502 returned to the market six months ago.
Asking $999,900 ($837 per square) over the past 37 days, as a plugged-in reader notes, the list price was reduced to $949,905 ($795 per square) today. A sale at asking would represent a 36 percent decline in value for the luxury unit over the past three years.
And while "still not cheap" at almost $800 per square, we're guessing that's of little solace to those who were sold on $1,200 or more.
And as a plugged-in reader noted late last night, the bank-owned "auction" resale of 690 Market #1502 closed escrow on Monday with a reported contract price of $805,000.
Call it $674 per square foot and a 46 percent ($676,000) drop in value for the 1,195 square foot Ritz-Carlton two-bedroom since October 2007.
And yes, the Sub-Zero was still in place (as were all the cabinets).
∙ Puttin' On The Ritz (And Pressure) At Under Eight Hundred A Square [SocketSite]