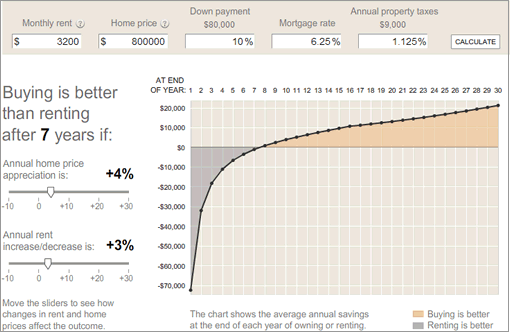 Here's the reality. As with any analysis, it's all about the assumptions.
Over the next five years, which is about the average amount of time recent buyers have remained in their homes, prices in the Los Angeles area would have to rise more than 5 percent a year for a typical buyer there to do better than a renter. The same is true in Phoenix, Las Vegas, the New York region, Northern California and South Florida. In the Boston and Washington areas, the break-even point is about 4 percent.
And in the end, it's an individual decision.
Clearly, there are benefits to owning a house beyond the financial, like the comfort of knowing you can stay as long as you want or can fix the roof without permission. But real estate has been sold as more than a good way to spend money. It has been sold as a can't-miss investment. Back in 2005, near the peak of the market, the chief economist of the Realtors' association, David Lereah, published a book called "Are You Missing the Real Estate Boom?" The can't-miss argument was wrong then, and it may still be wrong today.
And in either case, we do love that interactive graphic.
UPDATE: Yes, the "all important mortgage interest deduction" is accounted for in the interactive tool (not to mention the capital gains exclusion, transaction costs, and return on cash), but it also assumes a traditional fixed-rate mortgage amortization schedule. Before you critique, please take the time to check out all of the Advanced Settings (i.e., other assumptions).
∙ A Word of Advice During a Housing Slump: Rent [New York Times]