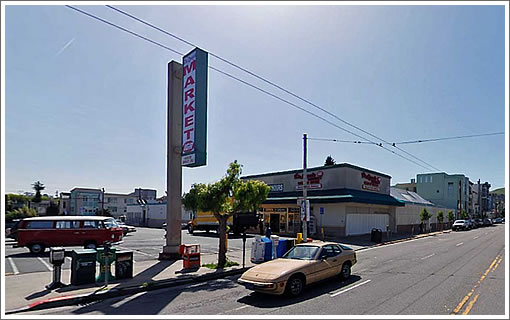 With San Francisco's first two Fresh & Easy locations scheduled to open their doors in Bayview and the Outer Richmond early this year, according to the San Francisco Business Times Fresh & Easy is also close to inking a lease for the (not so long) shuttered DeLano's Market at 1245 South Van Ness in the Mission.
And while there's no official word on the newly defunct DeLano's Market in the Castro, according to a plugged-in reader early last month:
I heard Tesco's Fresh & Easy is interested in the closing Delano's on 18th in the Castro. Ralphs Supermarkets sub-leases the building to DeLano's. They evicted them because they owe back rent on the store plus 5 others.
Could this be one DeLano's down for Fresh & Easy with five to go?
NOTE: As a plugged-in reader adds, if you want to lobby Trader Joe's to open in the Castro (or elsewhere in San Francisco) you might start by filling out a location request form.
UPDATE: Apparently the new new rumor has it that Mollie Stones will be taking over the defunct DeLano's in the Castro but a lease has yet to be signed. If so, perhaps that's how Fresh & Easy is ending up in the Mission (and why we don't typically cover the changing of existing grocery store flags). Cheers.