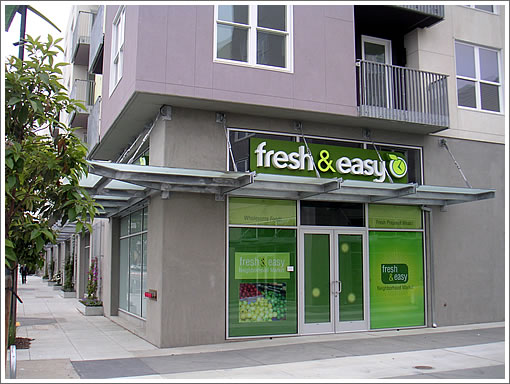 San Francisco's first Fresh & Easy should be open by April (if not March) 2011 and a Bayview outpost of Limon and a Crossroads Café should soon follow along with a third (possibly a Brown Sugar Kitchen), all at the base of 5800 Third Street.
As plugged-in people know, the "coming soon" flags started flying at 5800 Third in May, and the sales office has been open for a little over a month with 20 of the 137 Phase One condos in contract and the first closings in just a few weeks.
One bedrooms are listed from $339,000 with two-bedrooms (75 of the 137 units, all with two baths) starting at $383,000 for a little over a thousand square feet and three bedroom townhomes with three baths and 1,564 square feet from $539,000 (three-bedroom flats with two baths are priced from $479,000).
All units come with a deeded parking space in the garage. And the finishes and amenities (dog washing station with hot water anyone?) are nicer than many might expect (although the flooring is laminate).
∙ 5800 Third Street: Floor Plans | Gallery [5800third.com]