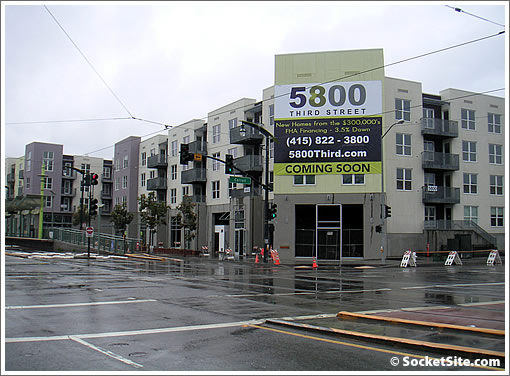 A plugged-in tipster reports:
This weekend a giant banner went up at 5800 Third Street (former Coca Cola Bottling Plant) in the Bayview with a link to their website. It has some general information about the landscape design firm, floor plans, amenities, retail tenants, but no photos of the units yet.
Also, much of the fencing [has come] down and awnings [are] being added. Some trees have begun to go in, and the plants appear ready to be planted.
137 new 1, 2, and 3 bedroom homes now "starting in the $300,000's" (as opposed to the mid-$500,000s as envisioned in 2007). And a Fresh & Easy is still front and center.
∙ 5800 Third Street: Floor Plans [5800third.com]
∙ 5800 Third Street: Development Starting Back Up (Delivery In 2010) [SocketSite]
∙ Speaking Of 5800 Third Street (A Development/Developer Update) [SocketSite]
∙ Not Quite So Easy (And A Little Less Fresh For Now) [SocketSite]