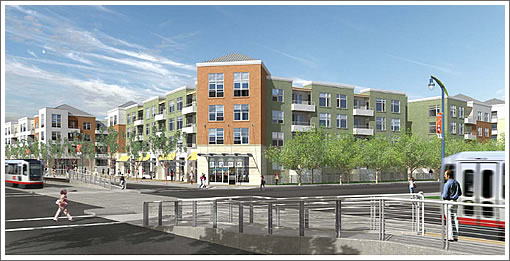 We had the scoop on the construction of 5800 Third Street shutting down. And now J.K. Dineen has the scoop on it starting back up.
Goldman Sachs Urban Investment Group has tapped veteran builder Rick Holliday to jump-start a 340-unit housing project at the former Coca-Cola bottling plant on Third Street. The $150 million project has been on hold since April when the former developer, Noteware Development, ran into financial trouble.
The first phase of the revived project, 140 units of housing and the city's first Fresh & Easy grocery store, is now on track for completion in a year to 14 months. The podium of the building at 5800 Third St. was 80 percent complete in April when construction was shut down.
Let us know what you see from the train.