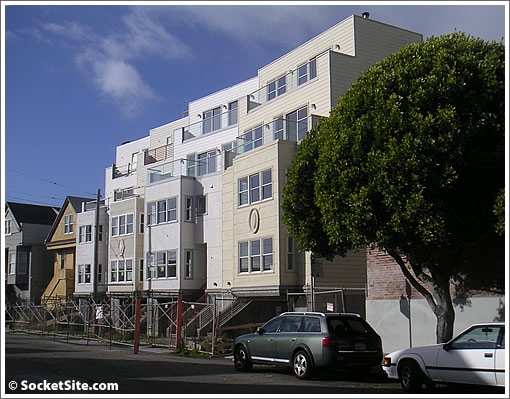 A year ago the eight unit "Bosworth Homes" development at 408-416 Bosworth hit the market asking between $650,000 for a one-bedroom to $1,299,000 for a five-bedroom with parking for two. Having sold none and just seventy percent complete, the project had ended up in receivership earlier this year, "working with a local contractor to secure the building and obtain a bid for completion."
As plugged-in tipster notes, the development appears to have finally gone back to the bank following an auction Tuesday on the courthouse steps. A second auction related to the development scheduled for yesterday was cancelled, the details for which we're searching.
In the words of a plugged-in reader in September:
[This development]…has become an eye-sore for our neighborhood. Unfinished units have been standing for well over a year and [are] now becoming a hazard to the community. I think this property would probably not meet health department regulations since the load bearing walls have been exposed for two winters now.
As best we can tell, the two buildings at 2 and 10 Rousseau which are only twenty percent complete were finally foreclosed upon as well, and to which our reader's load bearing walls comment likely relates (versus the eight condos fronting Bosworth).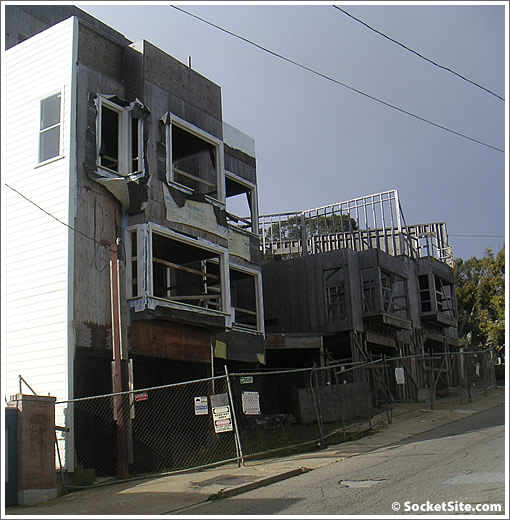 We'll keep you plugged-in and our eyes open for any "contractor specials" coming soon.
∙ What Are 412-416 Bosworth: Full Pricing And Two Open This Weekend [SocketSite]