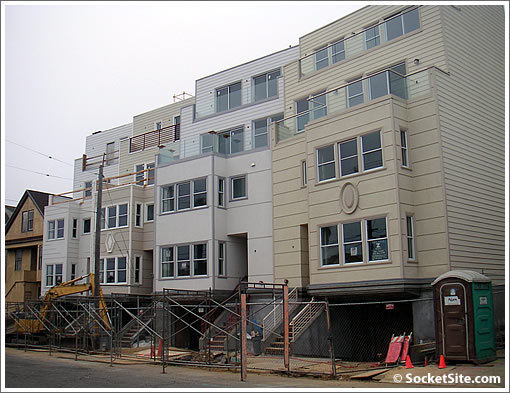 From what was and will be at 412-416 Bosworth last month, to what are today and a grand opening this weekend for two of the eight condos.
From the agent in charge:
One thing that people will ask about…is how much road noise there is from San Jose, which runs behind the property. I was initially concerned about that myself, but now that the window installation is in I feel comfortable challenging anyone to come and sit in the rear bedrooms so they can hear for themselves how quiet it is. The assembly consists of a dual paned window, then an air gap, followed by another single paned window that opens separately….Living in an urban area road noise is such a common issue, and I think a lot of other buildings in the city could have taken a cue from the way these windows were done.
And of course, the full pricing scoop to go with the plans:
A Upper (1/1.5) 1 parking – $650,000
A Lower (3/2.5) 1 parking – $855,000
B Upper (3/2.5) 1 parking – $960,000
B Lower (3/2.5) 2 parking – $1,099,000
C Upper (3/2.5) 2 parking – $1,099,000
C Lower (3/3.5) 2 parking – $1,149,000
D Upper (5/4.5) 2 parking – $1,275,000
D Lower (5/4.5) 2 parking – $1,299,000
∙ 412-416 Bosworth: What Recently Was And What Will Soon Be [SocketSite]
∙ 412-416 Bosworth [bosworthhomes.com]