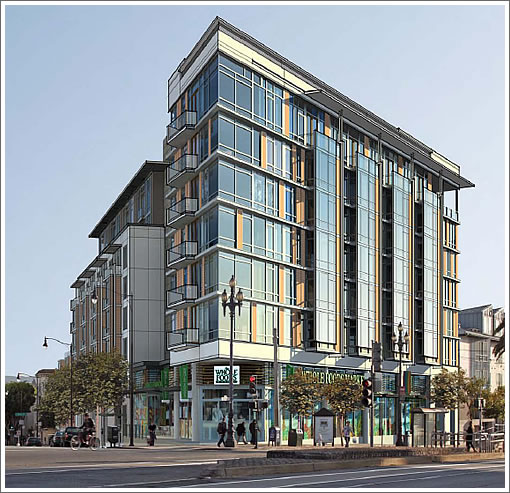 The parking and traffic concerns that are being blamed for torpedoing a Trader Joe's in the Castro are now front and center with respect to the planned Whole Foods at 2001 Market.
"They have a potential queuing problem," said Bill Wycko, the department's environmental review officer, referring to concerns that cars will be backed up and blocking traffic while waiting to get into the store's planned 60-space parking lot off Dolores Street.
"If they can't manage the queuing issue, paid parking would become a tool," he said.
"The issue is definitely something we're concerned about, especially as it can impose an unfair competitive burden on us compared to other stores in the area," said Adam Smith, Whole Foods' design and construction coordinator.
The 2001 Market Street project is scheduled to be presented to the Planning Commission next month. Assuming approval, the Prado Group plans to start construction on the development next fall which would enable the grocery store to open in 2012 and residential units fall 2012.
And while originally expected to open in time for the December holidays, it appears as though its opening of the Whole Foods at the corner of Stanyan and Haight has been pushed back to February 2011 as construction on the Cala conversion continues on.
∙ Trader Joe's Reportedly "Outed" From The Castro Over Traffic [SocketSite]
∙ Drawings And Details For The Proposed Development Of 2001 Market [SocketSite]
∙ Parking threatens to curb Whole Foods in Castro [SFGate]
∙ Whole Foods Here By End Of The Year As Cala Gutting Commences [SocketSite]